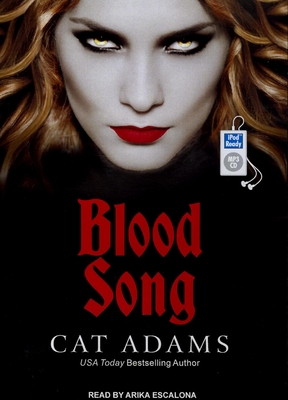 Blood Song (MP3 CD)
Tantor Media Inc, 9781452657554
Publication Date: April 30, 2012
Description
Bodyguard Celia Graves has definitely accepted her share of weird assignments, both human and supernatural. But her newest job takes the cake. Guarding a prince from terrorists and religious fundamentalists is hard enough, but it seems like the entire supernatural world is after this guy too. When she is betrayed by those she is employed to help, and everything goes horribly wrong, Celia wakes to find herself transformed.Neither human nor vampire, Celia has become an abomination--something that should not exist--and now both human and supernatural alike want her dead. With the help of a few loyal friends--a sexy mage, a powerful werewolf, and a psychic cop--Celia does her best to stay alive. On the run from her enemies, Celia must try to discover who is behind her transformation...before it's too late.
About the Author
Cat Adams is the joint pen-name of "USA Today" bestselling authors C. T. Adams and Cathy Clamp, authors of the much-lauded Blood Singer series.

As an audiobook narrator, Arika Escalona has performed a wide range of genres, from classics to contemporary thrillers, children's books, and women's literature, as well as stranger-than-fiction true stories. She has also narrated a variety of educational videos, apps, and video game characters, and she is the ongoing voice for Amazon Kindle's how-to video series.
Praise For Blood Song…
"In this fast-paced urban fantasy, Adams . . . introduces [fans] to a new world full of treachery and action." ---Publishers Weekly
Advertisement