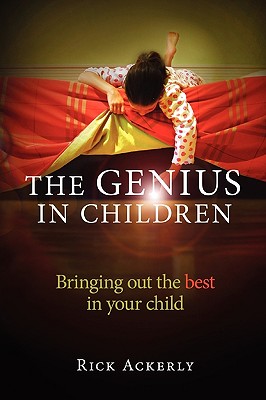 The Genius in Children (Paperback)
Bringing Out the Best in Your Child
Createspace Independent Publishing Platform, 9781452827520, 242pp.
Publication Date: May 20, 2010
* Individual store prices may vary.
Description
Rick Ackerly has over 40 years of experience working with students, teachers, and parents as a principal, father, and consultant. The stories and advice in his first book THE GENIUS IN CHILDREN reveal a rare wisdom about children and the process of education. The value of this experience to hundreds of children, parents, and teachers derives from the depth of his perception and the subtlety of his understanding. He offers perspective and guidance on a wide range of challenges faced by parents of today's school-age children: First Day of School Self-confidence Discipline Boundary-Setting Building Character Integrity Taking Responsibility Facing Challenges Separating from Parents Getting into Trouble Handling Disappointment Friendship Bullying Peer Pressure Harassment Reading Testing Homework Academic Achievement Failure and Success Dyslexia and ADHD. The GENIUS IN CHILDREN is a must-read for parents who want to discover how to bring out the best in their children.
About the Author
Rick Ackerly is a nationally recognized educator and speaker. With a master's in education from Harvard University, Rick has served as principal of four schools-Notre Dame de Sion in Kansas City, The Cathedral School in New York City, St. Paul's Episcopal School in Oakland, and Children's Day School in San Francisco-and has been a consultant to schools, school leaders and parents since 1999. Rick began his career in 1967 teaching high school and middle school mathematics and history, and has devoted the last 36 years to building thriving learning communities. Rick speaks to parent and school groups and presents at numerous education conferences around the country including the People of Color Conference, the California Association of Independent Schools, the Coalition of Essential Schools, the Symposium on Students with Learning Disabilities, Progressive Education Network, the National Association of Episcopal Schools, and the Pacific Rim Conference. He has been an active participant in the annual "Call to Action" conference sponsored by the National Association of Independent Schools' Office on Diversity and Multicultural Education. His articles about education and diversity have appeared in The Independent School, Multicultural Education, Education Week, and the New York Times. This is his first book.