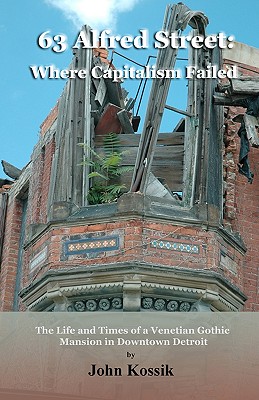 63 Alfred Street: Where Capitalism Failed: The Life and Times of a Venetian Gothic Mansion in Downtown Detroit (Paperback)
Where Capitalism Failed: The Life and Times of a Venetian Gothic Mansion in Downtown Detroit
Createspace, 9781452874951, 172pp.
Publication Date: June 13, 2010
About the Author
John Kossik was born and raised in the Downriver suburbs of Detroit. He graduated from Michigan State University with a B.S. in Chemical Engineering in 1983. He has lived and worked in the Pacific Northwest since then and has written numerous articles in publications such as Chemical Engineering, Chemical Engineering Progress, Genetic Engineering News, Pharmaceutical Manufacturing, Filtration+Separation, and Bioprocess International. He is co-patent holder of Disposable rotary drum filter, US Patent No. 6,336,561. A life-long Tiger fan until that venerable structure was abandoned in 1999, he subsequently gave up watching the game. He lives with his wife and two grown children in suburban Seattle. An amateur photographer, historian, and marine reef-keeper, this is his first book.
Advertisement