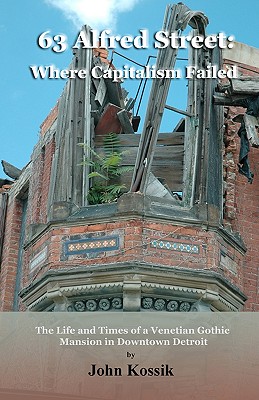 63 Alfred Street (Paperback)
Where Capitalism Failed: The Life and Times of a Venetian Gothic Mansion in Downtown Detroit
Createspace, 9781452874951, 172pp.
Publication Date: June 13, 2010
* Individual store prices may vary.
Description
In downtown Detroit there exists a grand residence built in the Venetian Gothic style some 130 years ago. It stands now in ruins seemingly more comfortable in the company of a lonely castle in the Scottish Highlands than in the shadow of Ford Field (Detroit Lions), Comerica Park (Detroit Tigers), and Joe Louis Arena (Detroit Red Wings). Though its only occupants for the last 40 years have been crack dealers and the local homeless population, its history reflects the length and breadth of the American Experience. This is its Story.
About the Author
John Kossik was born and raised in the Downriver suburbs of Detroit. He graduated from Michigan State University with a B.S. in Chemical Engineering in 1983. He has lived and worked in the Pacific Northwest since then and has written numerous articles in publications such as Chemical Engineering, Chemical Engineering Progress, Genetic Engineering News, Pharmaceutical Manufacturing, Filtration+Separation, and Bioprocess International. He is co-patent holder of Disposable rotary drum filter, US Patent No. 6,336,561. A life-long Tiger fan until that venerable structure was abandoned in 1999, he subsequently gave up watching the game. He lives with his wife and two grown children in suburban Seattle. An amateur photographer, historian, and marine reef-keeper, this is his first book.