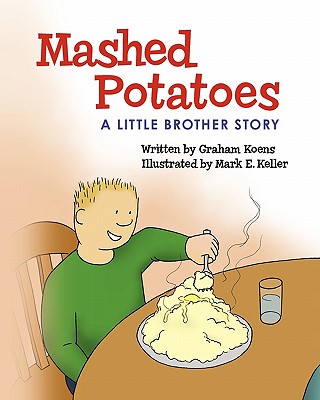 Mashed Potatoes (Paperback)
A Little Brother Story
Createspace Independent Publishing Platform, 9781452893044, 36pp.
Publication Date: October 19, 2010
* Individual store prices may vary.
Description
Little Brother - called L.B. for short - comes from a loving family, has a good friend, and loves to eat mashed potatoes. In fact, he thinks mashed potatoes are so good, he wants to eat nothing else. His parents try to explain to him that too much of anything is a bad thing, but L.B. doesn't want to listen. When L.B. disobeys his parents, he learns the hard way why he should trust them and how you really CAN have too much of a good thing.
About the Author
"Graham Koens" is the combined pen name of P. Koens and C.G.Koens, a husband & wife who are 3 years into the process of adopting 5 siblings, including a real life "little brother," from Costa Rica. 100% what they receive from book sales is going towards the adoption costs. "Little Brother" was first created by P. Koens for a high school writing assignment in 1994. After it resurfaced again in 2009, C.G. Koens (editor) worked to get the book illustrated, edited, and published. The original idea behind "Mashed Potatoes" was to incorporate practical life lessons through Little Brother's adventures and experiences. The story of Little Brother's over-indulgence and disobedience can be used to help teach children about the importance of SELF-CONTROL, OBEDIENCE, and TRUST.