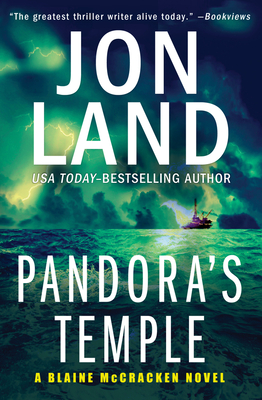 Pandora's Temple (Blaine McCracken Novels #6) (Paperback)
Open Road Media Mystery & Thri, 9781453224656, 390pp.
Publication Date: November 20, 2012
Other Editions of This Title:
MP3 CD (10/18/2016)
Hardcover (1/21/2014)
* Individual store prices may vary.
Description
What if Pandora's Box were real? Blaine McCracken finds himself facing this very question--and the greatest threat to mankind--in his long-awaited return to the page
Rogue special-operations agent McCracken has never been shy about answering the call, and this time it comes in the aftermath of a deepwater oil rig disaster that claims the life of a onetime member of his commando unit. The remnants of the rig and its missing crew lead him to the inescapable conclusion that one of the most mysterious and deadly forces in the universe is to blame: dark matter, both a limitless source of potential energy and an unimaginably destructive weapon. Joining forces again with his trusty sidekick Johnny Wareagle, McCracken races to stop two deadly enemies who want the dark matter at all costs. A powerful energy magnate and the leader of a Japanese doomsday cult both seek the ultimate prize for their own nefarious reasons, and McCracken and Wareagle's mission to defeat them takes the duo on a nonstop journey across the world and thousands of years into the past where the truth lies in the ancient Pandora's Temple, built to safeguard the world's most powerful weapon. McCracken's only hope to save the world is to find the mythical temple. Along the way, he and Wareagle find themselves up against Mexican drug gangs, killer robots, an army of professional assassins, and a legendary sea monster. The hero of nine previous bestselling thrillers, McCracken is used to the odds being stacked against him, but this time the stakes have never been higher. This book features an illustrated biography of Jon Land including rare images from the author's personal collection.
About the Author
Jon Land is the USA Today-bestselling author of The Tenth Circle, Pandora's Temple (winner of the 2012 International Book Award and nominated for a 2013 Thriller Award for Best E-Book Original Novel), and five other books featuring Blaine McCracken, Land's iconic series hero, for Open Road Integrated Media. He also pens the critically acclaimed Caitlin Strong series, which includes Strong Rain Falling and Strong Darkness, winners of the USA Best Book Award in 2013 and 2014, in the Mystery and Thriller categories, respectively. Now with thirty-seven books to his credit, Land will soon be working on a new title for Open Road, in which McCracken teams up with Land's other bestselling series hero, Jared Kimberlain (The Eighth Trumpet and The Ninth Dominion). Land lives in Providence, Rhode Island, and can be found at jonlandbooks.com and on Twitter with the handle @jondland.