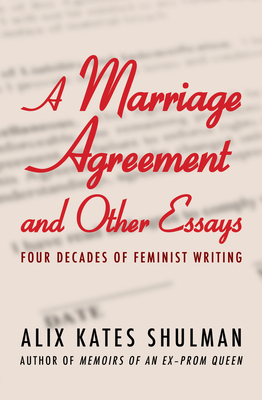 A Marriage Agreement and Other Essays (Paperback)
Four Decades of Feminist Writing
Open Road Media, 9781453255148, 196pp.
Publication Date: April 3, 2012
Other Editions of This Title:
Hardcover (1/21/2014)
* Individual store prices may vary.
Description
A provocative collection of essays by one of the foremost thinkers of second-wave feminism In a career spanning four decades, Alix Kates Shulman has written on issues ranging from marriage, sex, and divorce to religious identity, age, and family devotion. Throughout her diverse body of work runs a staunch advocacy of equal rights and social justice. Beginning with her provocative essay "A Marriage Agreement," written in 1969, and continuing through to the heartrending "Caring for an Ill Spouse, and Other Caregivers," written in 2011, this collection provides a window into the social movements that defined an era. Witty, stirring, and poignant, A Marriage Agreement and Other Essays illustrates how each generation, in Shulman's words, "can do no more than add its bit to the endless river of consciousness and change." Alix Kates Shulman (b. 1932) is the celebrated author of fourteen books, including the New York Times bestselling novel Memoirs of an Ex-Prom Queen (1972), which established her as a primary figure in feminism's second wave. Born in Cleveland, Ohio, Shulman studied philosophy at Columbia University and received an MA at New York University. She became a political activist, joining the Congress of Racial Equality in 1961 and the Women's Liberation Movement in 1967. Her other novels include Burning Questions (1978), On the Stroll (1981), In Every Woman's Life . . . (1987), and M nage (2012). She has also written the memoirs Drinking the Rain (1995), A Good Enough Daughter (1999), and To Love What Is (2008);a biography of Emma Goldman entitled To the Barricades (1971); and A Marriage Agreement and Other Essays: Four Decades of Feminist Writing (2012). Shulman lives in Manhattan and continues to speak frequently on issues such as writing, feminism, and reproductive choice.