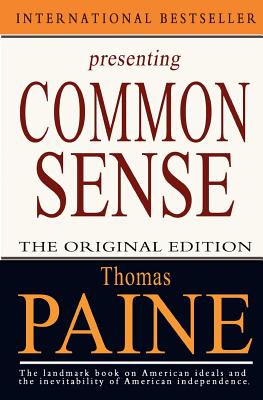 Common Sense (Paperback)
Createspace Independent Publishing Platform, 9781453619308, 84pp.
Publication Date: June 13, 2010
Other Editions of This Title:
Paperback (1/25/2019)
Paperback (12/16/2014)
Paperback (1/22/2015)
Paperback (10/4/2018)
Paperback (6/22/2016)
Paperback (6/1/2006)
Paperback (7/12/2019)
Paperback (8/6/2010)
Paperback (9/11/2014)
Paperback (9/6/2018)
Paperback (7/3/2015)
Paperback (4/19/2014)
Paperback (2/21/2009)
Paperback (10/16/2013)
Paperback (5/29/2010)
Paperback (10/20/2010)
Paperback (10/9/2007)
Paperback (1/30/2019)
* Individual store prices may vary.
Description
"Common Sense was a pamphlet written by Thomas Paine. It was first published anonymously on January 9, 1776, during the American Revolution. Paine wrote it with editorial feedback from Benjamin Rush, who came up with the title. The document denounced British rule and, through its immense popularity, contributed to fomenting the American Revolution... Paine donated the copyright for Common Sense to the states, and as one biographer noted, Paine made nothing of the estimated 150,000 to 600,000 copies that were eventually printed (various sources disagree on the number of printed copies in Paine's lifetime). In fact, he had to pay for the first printing himself." (Source: wikipedia.org) A beautiful edition of a timeless classic.