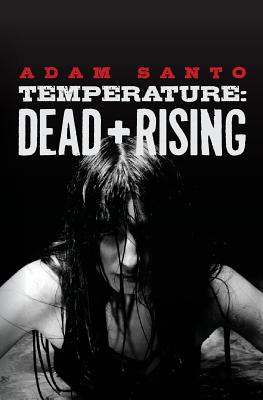 Temperature
Dead + Rising
Paperback

* Individual store prices may vary.
Other Editions of This Title:
Hardcover (10/3/2012)
Paperback (10/2/2012)
Description
An ancient, evil organization hunts two undead companions in Santo's dark fantasy debut. While driving friends through a mountainous state park in Colorado, 26-year-old Sally Mertill loses control of her car. The crash is fatal to all, including Sally, but her body is thrown free of the burning wreck, and her autopsy at the understaffed Colorado Springs morgue is delayed. Centuries-old Bocnic "Bo" Drewings, who belongs to a clan of powerful undead sorcerers, finds her there and explains that a Wakening ritual, performed by mysterious Powers-That-Be, has returned her to life. For the time being, her body thinks it's alive and still craves food and sex, although Bo assures her that those urges will stop. Later, after Sally jumps from Bo's car, he teaches her healing magic. Soon Bo discovers that The Cross-religious militants bent on exterminating supernatural beings-are hunting Sally, and he brings her to a reservation of undead people, where a shaman uncovers an important secret about her. Santo provides excellent descriptions of magic. He also brings sexy humor to a genre that sometimes takes itself too seriously; after Bo traps her in golden handcuffs, Sally pulls him in for "a deep kiss with longing written across her lips." The author delivers compelling atmosphere; during the opening scene, flickering lights are described in a way reminiscent of the 1979 film Alien. - Kirkus Review Find more reviews of this novel at - http: //www.panhandlingfantasy.com/book-reviews.html.
Createspace Independent Publishing Platform, 9781453658536, 178pp.
Publication Date: September 25, 2010
About the Author
Adam Santo is a SciFi/Fantasy writer who enjoys the quiet moments that everyday life allows to write stories. His debut novel, Temperature: Dead and Rising, offering a newly twisted tale about zombies took the world for a ride they would soon not forget. Santo began plotting out the second paperback novel, Temperature: Bitter Cold, before the ink dried on his first book. Santo continues to write nonstop because he knows there is always a story waiting to get out. When he is not writing, Santo enjoys quality time with his family and friends, spending the occasional weekend at a movie theater, and reclaiming his youth when his son challenges him to a video game. Santo currently resides in sunny Florida with his beautiful wife and equally beautiful children.