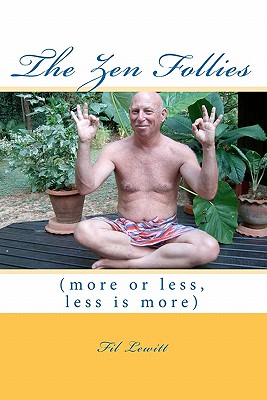 The Zen Follies
(more or less, less is more)
Paperback

* Individual store prices may vary.
Description
The Zen Follies, by Fil Lewitt, with plenty of B & W photos and drawings of zenbos, oddballs, and unusual locations, takes a close, sometimes ironic and often funny look at the business and pleasures of Zen Buddhism, and tells through stories, essays, autobiography, and some poetry the path one person took to find the Way, and what happened along the way. The book is aimed at the general reader with no special knowledge of Zen. Lewitt has been practicing Zen Buddhist meditation for more than forty years, and now in his 70th year, was ready to write about it. He spent 1972 as a student/monk at Tassajara Monastery deep in the coastal range of central California, and founded and helped direct a small Zen Buddhist community, Big River Farm Sangha, in Mendocino, California, during the 70s and 80s.
Createspace Independent Publishing Platform, 9781453663387, 228pp.
Publication Date: September 13, 2010
About the Author
Fil Lewitt is an American novelist, story-teller, essayist, and poet, the author of three thrillers: Tight, Dead White Males, and Millennial Blues. He has also published two books of poetry, a handbook/textbook on writing for Japanese university students, and created the interdisciplinary field of Archeopoetics (archeology, anthropology, and poetics) in a doctoral thesis (University Microfilms), as well as publishing lots of poetry and essays here and there. He has traveled widely, and worked as a jazz musician, dishwasher, restaurant cook, small bookstore owner, store clerk, logger, mill worker, hotel gardener, farmer, designer, carpenter, builder, and university teacher. He has been writing for more than 60 years. Lewitt now lives at the edge of the sea and the jungle in southern Thailand, under towering limestone cliffs.