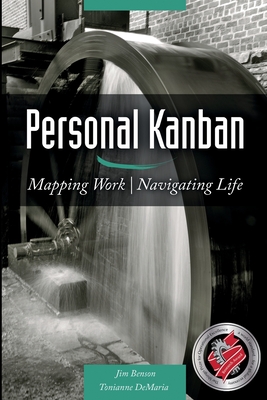 Personal Kanban
Mapping Work - Navigating Life
Paperback

* Individual store prices may vary.
Other Editions of This Title:
Paperback, French (4/25/2016)
Description
Machines need to be productive. People need to be effective.Productivity books focus on doing more, Jim and Tonianne want you to focus on doing better. Personal Kanban is about choosing the right work at the right time. Recognizing why we do the things we do. Understanding the impact of our actions. Creating value - not just product. For ourselves, our families, our friends, our co-workers. For our legacy.Personal Kanban takes the same Lean principles from manufacturing that led the Japanese auto industry to become a global leader in quality, and applies them to individual and team work. Personal Kanban asks only that we visualize our work and limit our work-in-progress. Visualizing work allows us to transform our conceptual and threatening workload into an actionable, context-sensitive flow. Limiting our work-in-progress helps us complete what we start and understand the value of our choices. Combined, these two simple acts encourage us to improve the way we work and the way we make choices to balance our personal, professional, and social lives.Neither a prescription nor a plan, Personal Kanban provides a light, actionable, achievable framework for understanding our work and its context. This book describes why students, parents, business leaders, major corporations, and world governments all see immediate results with Personal Kanban.
Createspace Independent Publishing Platform, 9781453802267, 218pp.
Publication Date: February 2, 2011
About the Author
Jim Benson's 20 years since university have seen him build light rail systems and neighborhoods as a urban planner, enterprise software and web sites for major government agencies as the owner of Gray Hill Solutions, and, most recently, as a collaborative management consultant helping create better working environments for teams of all sizes. The common thread in his history has the physical, regulatory, technological, emotional and political boundaries of community. Jim has worked with corporate, government, and not-for-profit organizations of all sizes. Taking Lean principles from manufacturing and Agile methodologies from software design, Jim Benson and Modus Cooperandi help individuals, teams, and organizations design collaborative systems. These systems are often built using social media technology as an enabler for communication and collaboration. Tonianne DeMaria Barry's consulting career spans the fashion industry and government agencies, non-profit associations and Fortune 100 corporations, start-ups and international development. Her academic training in history lends itself well to management consulting, where she contends that especially in business, the present value of the past is often under-appreciated. Forever asking Why and How things happen, she helps her clients uncover, analyze, and interpret their institutional artifacts. Leveraging the stories and values embedded within an organization's culture, she helps individuals use their history to establish priorities, achieve goals, and make informed and innovative decisions. Much like Personal Kanban itself, she wants her clients to acknowledge their past and present contexts, appreciate the interconnectedness and flow of events, and extract lessons from the patterns which emerge so they can better plan for the future.