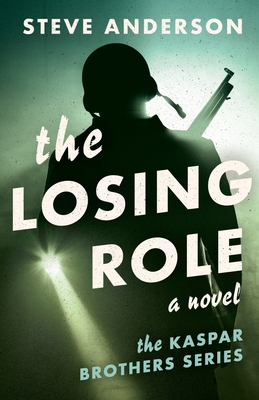 The Losing Role (Kaspar Brothers #1) (Paperback)
Createspace Independent Publishing Platform, 9781453855454, 248pp.
Publication Date: December 10, 2010
* Individual store prices may vary.
Description
A struggling German actor attempts to escape a top-secret WWII operation against the Americans.

When the SS orders banned entertainer Max Kaspar to impersonate a US officer during the bloody Battle of the Bulge, Max devises his own secret mission to escape the war and flee to America.

It's both his one big break and a deadly last chance on a journey that's taken him from a once-promising career to brutal front-line combat as a German Army corporal. Max has lost more than one true love, yet he still clings to what's left of his hope and his good humor. But his mission is doomed from the start. Trapped between the lines in the freezing Ardennes Forest, he must summon all his acting talents and newfound courage to evade perilous traps laid by both sides ...

Inspired by a real-life 1944 operation, this gripping wartime espionage thriller is the first book in the Kaspar Brothers series. Max Kaspar is the estranged older brother of German-American US Army captain Harry Kaspar in Liberated: A Novel of Germany, 1945(Kaspar Brothers #2). The Kaspar brothers reunite in the third book, Lost Kin.
About the Author
Steve Anderson is the author of the Kaspar Brothers series (The Losing Role, Liberated, Lost Kin), Under False Flags: A Novel, and other works centered on WWII and its aftermath. In The Other Oregon: A Thriller, he writes about his home state. Anderson was a Fulbright Fellow in Germany and is also a literary translator of German. He lives in Portland, Oregon.