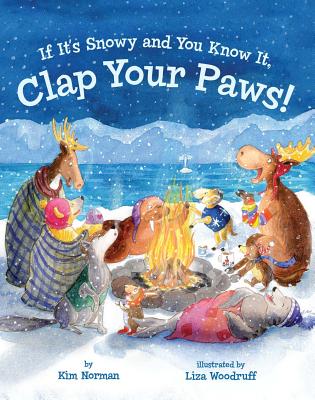 If It's Snowy and You Know It, Clap Your Paws! (Hardcover)
Sterling, 9781454903840, 24pp.
Publication Date: October 1, 2013
Description
If it's snowy and you know it,
roll a snowball up and throw it,
if it's snowy and you know it, clap your paws. Kim Norman and Liza Woodruff, the team behind the delightful Ten on the Sled, have created another irresistible winter-themed romp. This humorous variation on the classic song "If You're Happy and You Know It" introduces a group of adorable animals playing joyfully in the snow. They tumble on the tundra, catch snowflakes on their tongues, sculpt snowcritters, and make a frosty fort. But can they go with the flow when their wild adventure drifts in a surprising direction? Young readers will laugh and sing along

About the Author
Kim Norman has been a singer, songwriter, artist, and comedic actress. Her picture books include Crocodaddy, Ten on the Sled, and The Great Christmas Crisis (all Sterling). Kim lives in VA. Learn more about her at kimnormanbooks.com. Liza Woodruff has illustrated 14 books, including How About a Kiss from Me? (Dutton) and Ten on the Sled (Sterling). In addition, she illustrates school textbooks, magazines, and posters. Liza lives in VT with her husband Tom and their two children. Learn more about her at lizawoodruff.com.
Advertisement