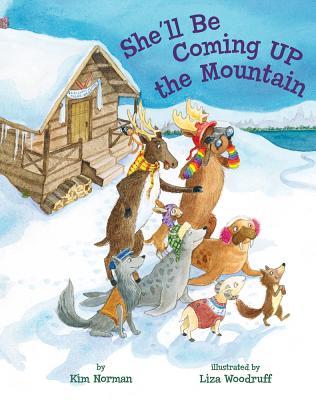 She'll Be Coming Up the Mountain (Hardcover)
Sterling Children's Books, 9781454916109, 32pp.
Publication Date: October 4, 2016
* Individual store prices may vary.
Description
When she gets here, she'll discover
just how much we really love her . . .

Welcome back the ten spirited pals from Ten on the Sled and If It's Snowy and You Know It, Clap Your Paws Author Kim Norman and illustrator Liza Woodruff have whipped up more frosty fun in a THIRD rollicking, jolly, snow-filled story, set to the tune of "She'll Be Comin' Round the Mountain When She Comes." In the land of the midnight sun, Polar Bear has bid farewell to her buddies--but with a promise to return. While the nine friends plan festive surprises for her arrival, Bear is planning a surprise of her own

An ideal picture book for reading--and singing along with--over and over.
About the Author
Kim Norman is the author of several books for young readers, including Sterling's Crocodaddy and Puddle Pug, which School Library Journal called, "A beautiful tale of friendship, determination, and perseverance." The idea for this story began way back during the Ice Age, when Kim overheard her son singing a mangled version ("She'll be comin' 'round the corner when she GITS HERE!") after naptime. She lives with her husband in a part of VA. Visit Kim online at kimnormanbooks.com. Liza Woodruff spends much of the winter sledding, skiing, and skating with her husband, son, and daughter in northern VT. Liza has worked as an illustrator for almost 20 years, and in that time has illustrated 21 books. Visit Liza online at lizawoodruff.com. This talented team also collaborated on If It's Snowy and You Know It, Clap Your Paws!, and Ten on the Sled, which has inspired many creative classroom reenactments, and was praised by Kirkus Reviews "What with animal identification, counting, vocabulary building and print awareness all scaffolded on a can't-lose rhyme, this one's a keeper."