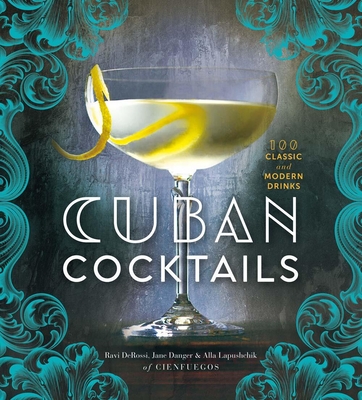 Cuban Cocktails
100 Classic and Modern Drinks
Hardcover

* Individual store prices may vary.
Description
The co-owner of one of America's best cocktail bars brings craft mixology to tropical drinks in a new, enticing way.
From the renowned Cuban rum bar Cienfuegos--owned by the co-owner of Death & Co., named Best American Cocktail Bar at Tales of the Cocktail(R) in 2010--comes this spirited collection of 100 recipes that celebrate Cuba's rich history and culture. It features timeless classics, such as the Cuba Libre, El Floridita Daiquir , and Mojito; a bevy of punch recipes to share with friends and family; new takes on familiar favorites, such as the Isla Tea, Por Avion, and Rum Old Fashioned; and modern craft concoctions, including the Havana Harbor Special, Imperial Fizz, and One Hundred Fires. But Cuban Cocktails offers more than just a collection of delectable recipes. It captures the tropical elegance and unfiltered energy of old Cuba, brimming with beautiful, evocative images of the drinks and the places where they came to life. Features shed fascinating light on the country's cocktail history, its legendary bars, and the famous cantineros who ran them, while notes, tips, and tricks make it easy to create a tantalizing taste of the once-forbidden Caribbean island. Bienvenidos a Cienfuegos
Sterling Publishing (NY), 9781454917502, 256pp.
Publication Date: October 6, 2015
About the Author
Ravi DeRossi began his career as an artist but soon set his sights on New York nightlife. His first venture, the Bourgeois Pig, was a press favorite. Then he co-founded Death & Co. and shortly thereafter Desnuda Cevicheria, described by the New York Times as "one of the most creative and innovative restaurants that New York has to offer." Mayahuel, his tequila and mescal bar, won the Best New Cocktail Bar Award at Tales of the Cocktail, and then he opened the Cuban rum bar Cienfuegos, among other notable establishments. Nominated by Wine Enthusiast for International Tastemaker of the Year, DeRossi is a founding member of NYC Hospitality Alliance and established BEAST Foundation for a cruelty-free world for animals. He lives in New York City. Jane Danger began her bartending career at CBGB in the East Village before moving to Death & Co. and then the PDT cocktail lounge. She also worked at Little Branch and Dutch Kills before opening Cienfuegos and Jane's Sweet Buns, a boozy bakery specializing in cinnamon rolls and cocktail-inspired pastries. From there she moved to the newly opened Nomad and Nomad Bar. She consults on and contributes to cocktail menus all along the East Coast, and her work has appeared in Food and Wine, Imbibe, New York magazine, Time Out New York, New York Post, New York Times, The PDT Cocktail Book, Mister Boston 75th Anniversary Guide, the Food Network, Cooking Channel, and elsewhere. She lives in New York City. Alla Lapushchik assisted with the opening of the Bourgeois Pig while studying at New York University before moving to Mayahuel, Death & Co., Desnuda Cevicheria, and 124 Rabbit Club. After opening the Post Office whiskey bar in South Williamsburg, she opened OTB, focused on craft spirits and comfort food. She lives in Brooklyn.
or
Not Currently Available for Direct Purchase