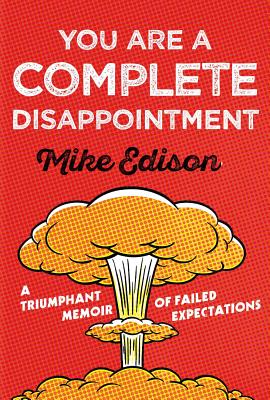 You Are a Complete Disappointment
A Triumphant Memoir of Failed Expectations
Hardcover

* Individual store prices may vary.
Description
"You are a complete disappointment." On his deathbed, Mike Edison's father gasped those words to his son--and that was just the beginning of his devastating salvo. For anyone who has ever suffered from parental bullying, this often-hilarious yet intensely heartbreaking memoir from the former High Times publisher will provide both solace and laughter. It begins with a child's hunger for love and acceptance and continues through years of withering criticism, perverse expectations, and unfounded competition from a narcissistic father who couldn't tolerate his son's happiness and libertine spirit. In the end, the author unravels a relationship that could never be fixed--but perhaps didn't need to be. In the spirit of Augusten Burroughs by way of Jeannette Walls, Edison's memoir is a candid, devastating, and deeply funny read.
Sterling, 9781454918684, 256pp.
Publication Date: May 3, 2016
About the Author
Mike Edison is the former editor and publisher of High Times magazine. His books include the celebrated memoir I Have Fun Everywhere I Go (Farrar, Straus & Giroux) and the sprawling social history of sex on the newsstand, Dirty! Dirty! Dirty! (Soft Skull Press). More recently he collaborated with Joe Bastianich on his New York Times bestselling memoir, Restaurant Man (Viking), of which writer Bret Easton Ellis has said, "The directness and energy have a cinematic rush . . . not a single boring sentence." Edison has worked as a foreign correspondent for Hustler and was a high-paid gun-for-hire of the legendary Penthouse letters. He has contributed to numerous magazines and websites, including Huffington Post, the Daily Beast, the New York Observer, Spin, Interview, and New York Press, for which he covered classical music and professional wrestling. In addition, he is an internationally known musician and ferociously dedicated storyteller who can be heard every Sunday on his show Arts & Seizures on the Heritage Radio Network. Edison lives and works in Brooklyn.
or
Not Currently Available for Direct Purchase