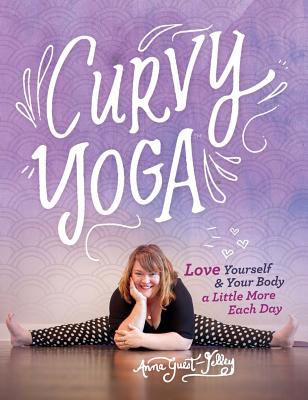 Curvy Yoga (Paperback)
Love Yourself & Your Body a Little More Each Day
Sterling, 9781454920663, 240pp.
Publication Date: January 17, 2017
* Individual store prices may vary.
Description
"Finally. A book that puts our culture's destructive body-shaming to rest and gives women the tools they need to forge a new, more loving relationship with their bodies." --Linda Sparrowe, former editor-in-chief of Yoga International, and author of Yoga At Home: Inspiration for Creating Your Home Practice

Have you wanted to try yoga but wondered if it was for you? Or perhaps you were uncertain whether you could carry out the poses? As the creator of a body-affirming yoga phenomenon that embraces people of all shapes and sizes, Anna Guest-Jelley has written an encouraging book that is about to become your go-to resource. In Curvy Yoga(R), she shares stories about body shaming with poignancy and even sometimes with humor. Guest-Jelley also reveals how things started to change once she found yoga--the last thing the self-declared non-athlete ever thought was possible. In addition, Guest-Jelley shares how yoga can help you connect with your body and why accepting your body doesn't mean giving up on it. Finally, in the appendix, she presents a series of pose instructions and options to make yoga work for your body--not the other way around.
About the Author
Anna Guest-Jelley is the founder of Curvy Yoga, an online yoga studio and teacher-training center that helps people of all sizes find true acceptance and freedom, both on and off the mat. Curvy Yoga is body-affirming yoga for people of all shapes and sizes that helps you feel good about your body, both on and off the yoga mat. Anna is the author of Curvy Yoga: Love Yourself & Your Body a Little More Each Day and the co-editor of Yoga and Body Image: 25 Personal Stories About Beauty, Bravery & Loving Your Body. Anna and Curvy Yoga have been featured in The New York Times, the Washington Post, US News & World Report, Yoga International, Yoga Journal, and many more. To learn more about Curvy Yoga, visit CurvyYoga.com.