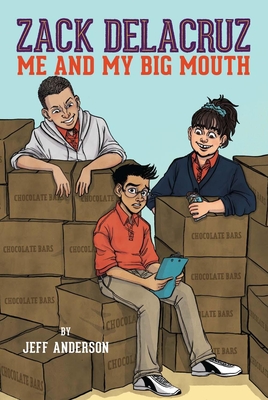 Zack Delacruz
Me and My Big Mouth (Zack Delacruz, Book 1): Volume 1
Paperback

* Individual store prices may vary.
Other Editions of This Title:
Hardcover (8/4/2015)
Description
Zack Delacruz is unnoticed at his middle school--and that's just the way he likes it. But a school assembly, a typhoon of spit, and an uncharacteristic moment of bravery are all it takes to change everything. Suddenly Zack is in charge of the class fundraiser. Worse, his partner is the school's biggest bully If they don't sell all the chocolate bars, there will be no dance for the sixth grade. Zack never wanted to be a hero, but with his classmates' hopes on the line, can he save the day?
Union Square Kids, 9781454921271, 176pp.
Publication Date: July 5, 2016
About the Author
About the Author: Jeff Anderson is the author of Mechanically Inclined, Everyday Editing, 10 Things Every Writer Needs to Know, and Revision Decisions. Zack Delacruz is his debut middle grade novel. Jeff grew up in Austin, Texas, and learned to love writing by journaling and crafting stories to entertain his friends over the phone. A former elementary and middle school teacher, Jeff travels to schools across the country working with teachers and students to discover joy and power in the writing process. Jeff lives with his partner, Terry, and their dogs, Carl and Paisley. Find out more about Jeff at writeguy.net or follow him on Twitter @writeguyjeff. Jeff lives in San Antonio, TX. About the Cover Illustrator: Tad Carpenter is a children's book illustrator, designer, graphic arts teacher, and cofounder of Vahalla Studios, a screen printing studio whose clients include Myspace, Ray-Ban, Polo, John Mayer, The Shins, Wilco, and Neil Young. He lives in Kansas City, MO. About the Interior Illustrator: Andrea Miller is an illustrator, a children's book designer at Sterling Publishing, and a graduate of The University of the Arts in Philadelphia. She lives with her wife, her six bookshelves, and a box of ink and brushes. Zack Delacruz is her first children's book. Find her work online at andreacmiller.com. Andrea lives in Brooklyn, NY.
or
Not Currently Available for Direct Purchase