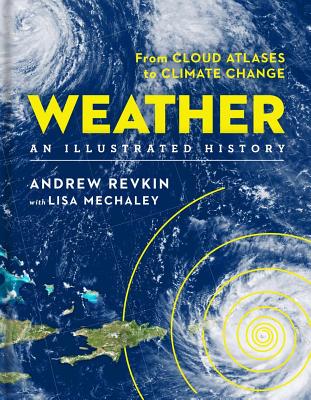 Weather
An Illustrated History: From Cloud Atlases to Climate Change
Hardcover

* Individual store prices may vary.
Description
"Beautifully illustrated . . . Think of this book like dining on tapas, boasting savory flavors, some unexpected, that constitute a satisfying whole." --Washington Post Andrew Revkin, strategic adviser for environmental and science journalism at the National Geographic Society and former senior climate reporter at ProPublica, presents an intriguing illustrated history of humanity's evolving relationship with Earth's dynamic climate system and the wondrous weather it generates. Colorful and captivating, Weather: An Illustrated History hopscotches through 100 meteorological milestones and insights, from prehistory to today's headlines and tomorrow's forecasts. Bite-sized narratives, accompanied by exciting illustrations, touch on such varied topics as Earth's first atmosphere, the physics of rainbows, the deadliest hailstorm, Groundhog Day, the invention of air conditioning, London's Great Smog, the Year Without Summer, our increasingly strong hurricanes, and the Paris Agreement on climate change. Written by a prominent and award-winning environmental author and journalist, this is a groundbreaking illustrated book that traces the evolution of weather forecasting and climate science.
Sterling, 9781454921400, 224pp.
Publication Date: May 1, 2018
About the Author
Andrew Revkin is one of America's most honored and experienced journalists focused on environmental and human sustainability. In the spring of 2018, he joined the staff of the National Geographic Society as strategic adviser for environmental and science journalism. Formerly the senior reporter for climate issues at the Pulitzer Prize-winning ProPublica and the Pace University Senior Fellow for Environmental Understanding, he has reported on science and the environment for more than three decades, mainly for The New York Times. He has written on global warming science and solutions and energy issues since the 1980s, from the North Pole to the White House, and is among those credited with first proposing that we have entered a "geological age of our own making," known increasingly as the Anthropocene. He has won top awards in science journalism multiple times, along with a Guggenheim Fellowship. Revkin has written acclaimed books on global warming, the changing Arctic, and the violent assault on the Amazon rain forest, as well as three book chapters on science communication. Drawing on his experience with his Times blog, Dot Earth, which Time Magazine named one of the top 25 blogs in 2013, Revkin has spoken to audiences around the world, including at the United Nations and Vatican, about paths to progress on a turbulent planet. In spare moments, he is a performing songwriter and was a frequent accompanist for Pete Seeger. He lives in Cold Spring, NY, with his wife and coauthor, Lisa Mechaley, who is an educator at the Children's Environmental Literacy Foundation.