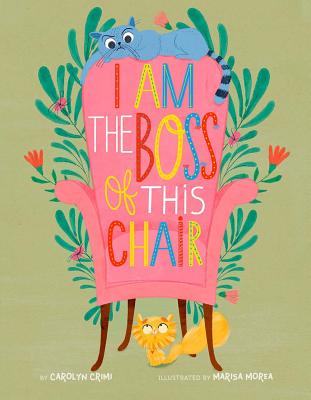 I Am the Boss of This Chair (Hardcover)
Sterling Children's Books, 9781454923220, 32pp.
Publication Date: March 6, 2018
* Individual store prices may vary.
Description
When a new kitten joins the family, can a top cat learn to share his chair--and (almost) everything else, too?
"I, Oswald Minklehoff Honey Bunny III, am the boss of this chair. You may look at it, and you may walk by it, but you may not sit in it.
Because I am the boss of this chair, and that's that." Oswald Minklehoff Honey Bunny III has always been top cat. Then Pom Pom the kitten comes along and suddenly Oswald isn't the boss of everything anymore--not the toilet paper, food dish, back door, toy mouse, or even his own special chair. Will Oswald realize that life is more fun when you have a friend--and that, really, there's plenty of room on the chair to share? A fun picture book with a comforting message for any kid with a new sibling.
About the Author
Carolyn Crimi has published over a dozen picture books, including Boris and Bella (Houghton Mifflin Harcourt), Where's My Mummy? (Candlewick), and Pugs in a Bug (Penguin). She lives in Evanston, IL. Find out more about Carolyn here: carolyncrimi.com. Marisa Morea is a freelance illustrator based in Madrid, Spain. She's been working as an illustrator since graduating with an MA in Illustration from Eina School in Barcelona in 2009.