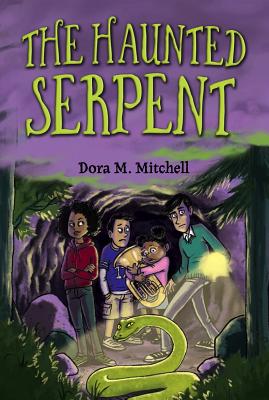 The Haunted Serpent (Hardcover)
Sterling Children's Books, 9781454927853, 240pp.
Publication Date: June 5, 2018
* Individual store prices may vary.
Description
"Fans of Dan Poblocki, John Bellairs, and R.L. Stine will all be right at home and smiling at the shivers (and the jokes)." -Kirkus

Welcome to Thedgeroot, where Spaulding Meriwether is on a quest to make friends, become cool . . . and figure out why dead people are running around.

"You know how people always tell you 'just be yourself?' That's terrible advice. You won't survive middle school that way. Trust me."

Spaulding Meriwether, Thedgeroot Middle School's new resident weirdo and son of questionable television ghost hunters, just wants to fit in. But after a revenant chases him through the woods, Spaulding suspects there's something afoot in Thedgeroot. (At least he thinks it's a foot. Maybe it was a hand. It's hard to tell when you're running away.) Then he notices the chimneys of the abandoned factory at the edge of town puffing smoke--and his dead next-door neighbor materializes, along with David, the missing pet boa constrictor that supposedly ate him. Spaulding can't help wondering if these strange happenings have anything to do with his undead friends in the forest. Of course, Spaulding just has to investigate--but he may be biting off more than he can chew . . . .

Kids will love this hilariously creepy illustrated middle-grade novel

"A spooky, high-interest adventure..."--School Library Journal
. . . engaging and goosebump inducing." --Booklist

About the Author
Dora M. Mitchell is a writer, illustrator, and children's librarian living in a small Northern California town that dates back to the Gold Rush. She writes surrounded by dark woods where the evidence of mining days can still be found hidden away among the trees--the inspiration for the setting of The Haunted Serpent. Her latest illustration work can be seen in The Boatman by Kat Hawthorne (BookFish Books, 2015). Visit her online at doramitchell.com.