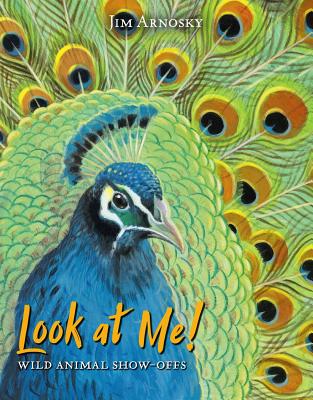 Look at Me! (Hardcover)
Wild Animal Show-Offs
Sterling Children's Books, 9781454928096, 40pp.
Publication Date: September 18, 2018
* Individual store prices may vary.
Description
With his signature breathtaking art, plus stunning gatefolds, acclaimed naturalist Jim Arnosky introduces children to the most eye-catching creatures in the animal kingdom

Meet the show-offs With their wacky eyebrows, beautiful patterns, and bright feathers and scales, many animals seem to be saying: "Look at ME " That behavior certainly won't protect them from predators, so why do they do it? Jim Arnosky explores a multitude of creatures from across the globe to reveal the reasons behind their attention-grabbing behavior. His spectacular art, including amazing gatefolds, presents brilliantly colored poison arrow frogs of the rainforest; the breeding plumage of egrets and peacocks; the impressive antlers of deer and elk; the threatening hoods of cobras; the balloon-like displays of African bullfrogs; and the dramatic color transformation of spawning fish.
About the Author
Jim Arnosky is the author/illustrator of nearly 150 books for young readers, and has been honored for his overall contribution to literature for children. He received the first lifetime achievement award for Excellence in Science Illustration from the American Association for the Advancement of Science and the Washington Post/Children's Book Guild Award for nonfiction. Jim and his wife, Deanna, travel all over the US for school and library visits, meeting hundreds of kids every year. Visit jimarnosky.com to learn more. He lives in South Ryegate, VT.