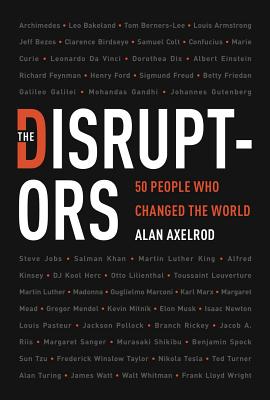 The Disruptors (Hardcover)
50 People Who Changed the World
Sterling, 9781454930310, 288pp.
Publication Date: September 11, 2018
* Individual store prices may vary.
Description
"Biography lovers may find this a great start in understanding the long-term impacts that individuals can have on culture, society, and history and be interested in seeking further information about Axelrod's fascinating subjects. --Booklist

Meet 50 women and men who broke the rules . . . and changed the world.

What does Charles Darwin have in common with Johannes Gutenberg--or with Jackson Pollock, Martin Luther, Betty Friedan, Steve Jobs, and DJ Kool Herc? They were the disruptors, upending cultural, technical, spiritual, or scientific paradigms and altering the way we live forever. Bestselling author Alan Axelrod presents engaging profiles, accompanied by original line drawings, of 50 visionaries who rewrote the rules. Their innovations range from the printing press (Gutenberg) to the fight for women's equality (Friedan), from the smartphone (Jobs) to the invention of hip-hop (Herc).
About the Author
Alan Axelrod is the author of more than 100 books, including the CEO and Real History series (all Sterling). He was the coauthor of The New York Times bestseller What Every American Should Know About American History (with Charles Phillips; Adams Media Corporation) as well as the Businessweek bestsellers Patton on Leadership and Elizabeth I, CEO (both Prentice Hall). He has appeared on numerous TV and radio programs and in magazine and newspaper articles.