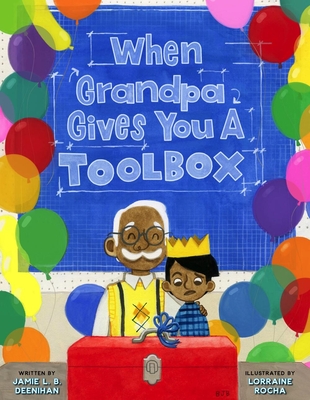 When Grandpa Gives You a Toolbox
Hardcover

* Individual store prices may vary.
Other Editions of This Title:
Hardcover (3/5/2019)
Description
In this delightful story, by the same author who wrote When Grandma Gives You a Lemon Tree, a boy is disappointed with his grandfather's gift--until he learns he can use it to build exactly what he wanted with his own two hands, and a little help from grandpa, of course You asked for a special house for your dolls; but instead Grandpa gives you a toolbox What do you do? Launching it into outer space is a bad idea. So is feeding it to a T. rex Instead, be patient, pay attention, and you might find that you're pretty handy. And just maybe, with grandpa's help, you'll get that dollhouse after all. This clever story celebrates kindness, hard work, and community, as well as variety in gender expression: the male main character proudly engages in activities that might be considered typically girl (playing with dolls) and typically boy (building with tools).
Union Square Kids, 9781454932321, 32pp.
Publication Date: March 31, 2020
About the Author
Jamie L. B. Deenihan is a teacher and member of SCBWI and the 12 x 12 Picture Book Challenge. Her first picture book was When Grandma Gives You a Lemon Tree. She lives in Suffield, CT, with her family. Visit her online at jamiedeenihan.com and on Twitter @jlbdeenihan. Lorraine Rocha studied illustration and animation and worked at Lucasfilm's VFX and animation studio Industrial Light & Magic, contributing to such films as Indiana Jones and the Kingdom of the Crystal Skull and Ironman. She is the illustrator of Zebra on the Go by Jill Nogales. Lorraine lives with her family in San Leandro, CA.