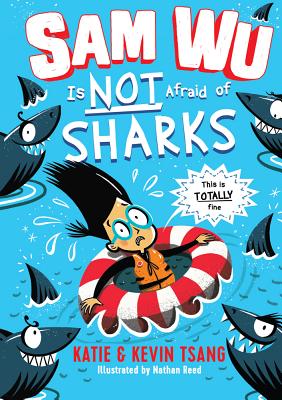 Sam Wu Is Not Afraid of Sharks (Hardcover)
Sterling Children's Books, 9781454932567, 240pp.
Publication Date: March 19, 2019
Other Editions of This Title:
Hardcover (3/10/2020)
Hardcover (10/9/2018)
Hardcover (8/6/2019)
* Individual store prices may vary.
Description
After the ghosts . . . come the sharks

Sam Wu is not afraid of sharks. Except . . . he is. Can Sam conquer his fear before he misses out on his friends' beach party fun?

On a class trip to the aquarium, certified ghost hunter Sam Wu encounters something even scarier than ghosts: Crazy Charlie, a giant shark, who TOTALLY tries to eat him. Sam has no intentions of taking any more chances with these people-eating creatures. But then his classmates Regina and Ralph announce they're having a birthday bash . . . on the BEACH Can Sam overcome his terror of becoming shark bait? This second book in the Sam Wu series is a funny, touching, and charming story of finding your courage when the moment comes--because bravery is something you have to prove again and again.
About the Author
Katie and Kevin Tsang are Americans who met while studying at the Chinese University of Hong Kong. Some of Sam Wu's experiences are based on Kevin's childhood. He works as a healthcare technology consultant. Katie writes YA as Katherine Webber. They currently live in London and the books in the Sam Wu series are their first together.