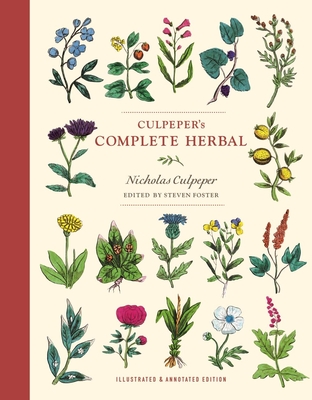 Culpeper's Complete Herbal
Illustrated and Annotated Edition
Paperback

* Individual store prices may vary.
Other Editions of This Title:
Paperback (5/26/2020)
Paperback (3/30/2014)
Paperback (8/15/2019)
Paperback (11/19/2020)
Hardcover (3/29/2014)
Paperback (9/1/2019)
Paperback (1/30/2012)
Paperback (3/8/2018)
Paperback (10/4/2018)
Paperback (4/5/1995)
Paperback (9/10/2010)
Description
A revised and refreshed edition of Culpeper's classic book on herbal remedies. " An] updated and beautifully designed guide . . . " --Booklist For more than 360 years, Nicholas Culpeper's historic guide to herbal remedies has been THE definitive book on the subject. Culpeper, an English herbalist, is the author of the bestselling herbal guide of all time. He offered valuable and sometimes unusual advice on using, gathering, and preparing herbs. Now, this beautifully illustrated new edition, edited and with commentary by acclaimed US herbalist and bestselling author Steven Foster, combines the charm and information of Culpeper's original seventeenth-century text with up-to-date, modern, practical usage. It includes details about where to find each herb, astrology, and medicinal benefits.
Sterling, 9781454932871, 288pp.
Publication Date: May 7, 2019
About the Author
Bestselling author, photographer, consultant, and herbalist Steven Foster has 40 years of experience in the herbal field. He started his career at Sabbathday Lake, ME, Shaker's Herb Department--America's oldest herb business, dating to 1799. Foster is the author or coauthor of 18 books including the Peterson Field Guide to Medicinal Plants and Herbs: Eastern and Central North America, 3rd Ed. (w/James A. Duke; Houghton Mifflin Harcourt). Foster is also senior author of National Geographic's A Desk Reference to Nature's Medicine (w/Rebecca Johnson, National Geographic Books). An acclaimed photographer, his work appears in countless publications. He is a Contributing Editor to HerbalGram, the journal of the American Botanical Council in Austin, TX. He lives in Eureka Springs, AR.