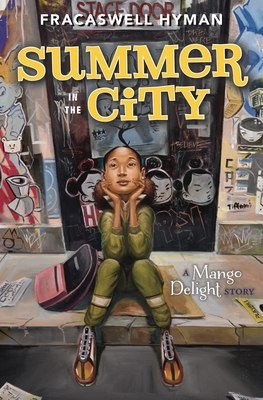 Summer in the City, 2
Hardcover

* Individual store prices may vary.
Description
Get ready, world--Mango's about to become a STAR In this sequel to Mango Delight, the delightful heroine's adventures--and misadventures--continue as she prepares to make her off-Broadway debut. Where Mango goes, drama is sure to follow It's summer break, and Mango is content to spend her time babysitting her brother, hanging with her friend Izzy, and binge-watching movies late into the night. Then she runs into her drama teacher, who has some big news: their middle school play Yo, Romeo is headed to the stage in New York City . . . and he wants Mango for the lead role After overcoming her mom's initial reluctance--and with some firm rules established--Mango goes off to Brooklyn to stay with her Aunt Zendaya in a teeny apartment and prepare for her theatrical debut. It's the opportunity of a lifetime, but soon Mango must confront homesickness, insecurity, and the all-important question of what it means to be a good friend--especially when you're far away from the people you love.

Sterling Children's Books, 9781454933946, 288pp.
Publication Date: March 31, 2020
About the Author
Fracaswell "Cas" Hyman is an award-winning television writer (Humanitas Prize, Alma Award, Peabody Award) and screenwriter (UCLA Extension Best Screenplay winner.) He is also a playwright, theater and television director, and producer who has created and executive produced successful live-action (The Famous Jett Jackson, Romeo, Taina) and animated (Little Bill) television series for Disney and Nickelodeon. Cas lives with his family in Wilmington, NC, and can be found online at fracaswellhyman.com and on Instagram @fracaswell.