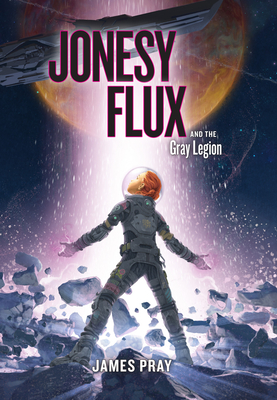 Jonesy Flux and the Gray Legion, 1
Hardcover

* Individual store prices may vary.
Other Editions of This Title:
Paperback (6/7/2022)
Description
Filled with excitement, danger, and daring, Jonesy Flux and the Gray Legion is a classic space adventure with deliberate retro trappings. Enter Canary Station, in the Noraza system, where many died and only a few were left alive. Jonesy is one of a pack of children still living there after the station was brutally destroyed by a mysterious ship and an invasive computer virus. Separated from their families during the evacuation, these intrepid kids have bonded and survived, making the most of what remains, repairing what they can, and planning for a rescue. One day, as Jonesy salvages in a forbidden section of the station, an accident unleashes strange powers within her. Unfortunately, this burst of energy immediately attracts a malevolent group of adults eager to grab the source of this flare. They kidnap everyone except for Jonesy, who uses her newfound power to stay hidden during the invasion. Now it's up to her to figure out how to escape the station, rescue her friends, and reunite with her family, all while learning to harness her mysterious new powers.
Sterling Children's Books, 9781454938354, 416pp.
Publication Date: November 10, 2020
About the Author
James Pray has been writing stories since he was six, holds a BS in Engineering and an MFA in Creative Writing/Fiction, and works as a software developer. Although he tends to file concepts like "Free time" and "Vacation" under "Things that get in the way of writing," he occasionally finds time to enjoy board sports, video games, 3D printing, and growing ghost peppers. He loves all things science, aviation, and space, and lives in Grand Rapids, MI with his wife, two children, and a laser-guided corgi named Benzie. You can find him online at jamespray.com or on Twitter as @jamespray.