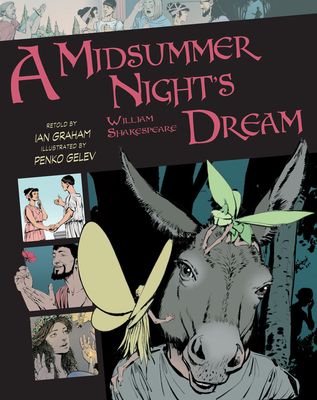 A Midsummer Night's Dream, Volume 9 (Graphic Classics #9) (Paperback)
Sterling Children's Books, 9781454939771, 64pp.
Publication Date: August 4, 2020
Other Editions of This Title:
Paperback (4/21/2019)
Paperback (4/16/2019)
Paperback (5/19/2015)
Paperback, Large Print (8/14/2008)
Paperback (3/12/2018)
Paperback (9/19/1996)
Paperback (1/18/2018)
Paperback (8/14/2008)
Hardcover (11/10/2018)
Hardcover (3/23/1995)
Paperback (10/14/2018)
Paperback (7/11/2019)
Hardcover (9/19/1996)
Paperback (11/10/2018)
Hardcover (10/14/2018)
Hardcover, Large Print (8/20/2008)
Hardcover (8/20/2008)
Paperback (11/16/2019)
* Individual store prices may vary.
Description
Enjoy Shakespeare's magical comedy in a colorful graphic edition. Abridged for fast-paced reading, this book features illustrations that vividly tell the tale. Helena loves Demetrius, Demetrius loves Hermia, and Hermia and Lysander love each other and want to marry--but her father says "no." How true it is that "the course of true lovenever did run smooth." Four foolish mortals, as well as for a quarrelling fairy king and queen, star in Shakespeare's enchanting comedy of misbegotten lovers.
About the Author
William Shakespeare (1564 - 1616) was an English playwright, renowned by many as the world's greatest writer in the English Language. Among his plays are Romeo and Juliet, Hamlet, and Macbeth, to name but a few.