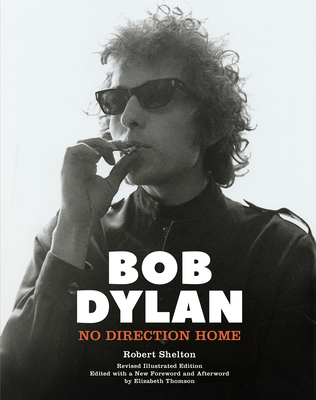 Bob Dylan
No Direction Home
Hardcover

* Individual store prices may vary.
Description
This lavishly illustrated and thoughtfully abridged edition of THE classic book on Dylan--published to coincide with Dylan's 80th birthday (May 24, 1941)--is a must for all Dylan aficionados.
Robert Shelton met Bob Dylan when the young singer arrived in New York in 1960, becoming Dylan's friend, champion, and critic. Shelton's book No Direction Home, first published in 1986, was hailed as the definitive unauthorized biography of this complex, passionate genius, and is the only one written with the subject's active cooperation. Dylan gave Shelton access to his parents, his brother, and his childhood friends, among others. The book, whichtook 20 years to complete, hen it was finally published the book received widespread critical acclaim. This new illustrated edition published in the year of Dylan's 80th birthday sympathetically abridges Shelton's original manuscript and includes more than 150 images of Dylan throughout his incredible, enduring career.
Sterling, 9781454942658, 304pp.
Publication Date: May 4, 2021
About the Author
Robert Shelton (1926-95) was born in Chicago and was on the staff of the New York Times for two decades until he went to Europe. Best known as the man who "discovered" Bob Dylan, he was the principle chronicler of the 1960s US folk revival. His books include the Woody Guthrie collection Born to Win, The Face of Folk Music, The Country Music Story, and The Electric Muse. Elizabeth Thomson knew Robert Shelton for the last 15 years of his life, and was responsible for the 2011 edition of No Direction Home. She has been a visiting fellow of the Open University Sixties Research Group and was a contributor to The New Grove Dictionary of Music & Musicians (Oxford). Her books include The Dylan Companion (Da Capo), and Joan Baez: The Last Leaf (Palazzo).