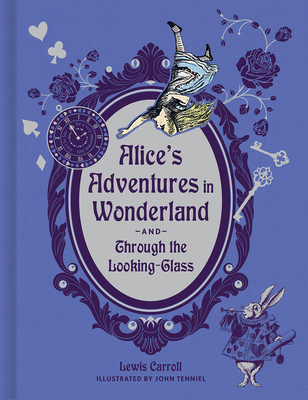 Alice's Adventures in Wonderland and Through the Looking-Glass (Deluxe Edition)
Hardcover

* Individual store prices may vary.
Description
Down the rabbit-hole and through the looking-glass
Lewis Carroll's novels Alice's Adventures in Wonderland and Through the Looking-Glass (first published in 1865 and 1871, respectively) have entertained readers young and old for more than a century. Their magical worlds, amusing characters, clever dialogue, and playfully logical illogic epitomize the wit and whimsy of Carroll's writing. Alice's Adventures in Wonderland transports you down the rabbit-hole into a wondrous realm that is home to a White Rabbit, a March Hare, a Mad Hatter, a tea-drinking Dormouse, a grinning Cheshire Cat, the Queen of Hearts and her playing-card retainers, and all manner of marvelous creatures. Through the Looking-Glass is your passport to a topsy-turvy world on the other side of the mirror, where you have to run fast just to stay in place, memory works backwards, and it is possible to believe as many as six impossible things before breakfast. Alice's Adventures in Wonderland and Through the Looking-Glass is the first in a new collection of Children's Deluxe editions. These volumes will feature foil-stamped binding and distinctive gilt edging and an attractive ribbon bookmark. Additionally, this new deluxe leather-bound edition features colored illustrations of John Tenniel.
Sterling Children's Books, 9781454944034, 296pp.
Publication Date: November 16, 2021