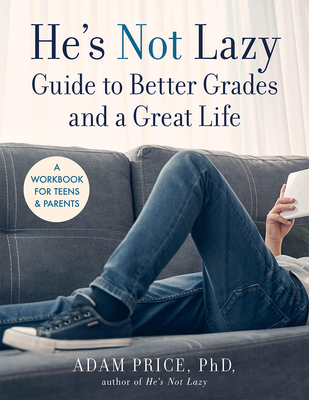 He's Not Lazy Guide to Better Grades and a Great Life
A Workbook for Teens & Parents
Paperback

* Individual store prices may vary.
Description
A relatable, interactive workbook designed to help teenage boys acknowledge and overcome their issues with poor academic motivation. The book also offers parents advice and exercises to help them become their son's ally, rather than his adversary. This teen-friendly, hands-on, activity-oriented workbook offers a unique approach to school success: there are no study skills here--instead boys are challenged to examine the reasons they procrastinate and encouraged to be honest about their values and goals. Each short chapter delivers its message through illustrations, exercises, and stories about real teens that hit close to home. The tone is edgy (and often entertaining), with no punches pulled. The author's aim is clear: to help teens reassess their strategy of disengagement. Parents will immediately see the appeal of the workbook because it offers the direction and lessons their sons refuse to hear from them--while keeping them involved in the process.

Union Square & Co., 9781454944256, 176pp.
Publication Date: October 26, 2021
About the Author
Adam Price, PhD, is a clinical psychologist, expert in learning disabilities and ADHD, and author of Sterling's He's Not Lazy (2017). He has written for both academic and popular publications, including The Wall Street Journal and Family Circle Magazine. He currently writes a column for Psychology Today and maintains a private practice in New York City and Chatham, NJ.