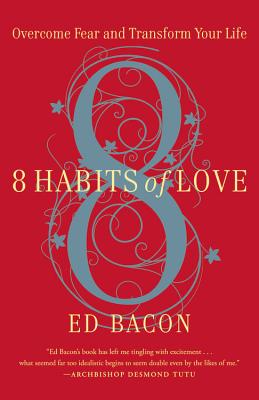 8 Habits of Love
Overcome Fear and Transform Your Life
Paperback

* Individual store prices may vary.
Other Editions of This Title:
Digital Audiobook (9/10/2012)
Description
A spiritual guidebook to living life through love and connection, not fear and isolation, by a respected pastor and a frequent guest on Oprah's Soul Series.

Reverend Bacon believes that every person can live a full and creative life if they can learn to move through troubling emotions such as fear, anger, and sadness to find the beloved within themselves. Readers will learn how insecurity can keep us from connecting with others, our loving self, and finding our own peace, joy, and creative power. 8 Habits of Love will show, through relatable stories, how to create a full, meaningful life by developing simple habits-stillness, truth, forgiveness, compassion, play, candor, generosity, and community-and by asking such important questions as: How do I know I'm living the life I should be? How do I forgive those who have hurt me? How do I talk candidly with difficult people? How do I best help others when they need it? And How do I let go of the past and move forward?
Praise For 8 Habits of Love: Overcome Fear and Transform Your Life…


"Ed Bacon's book has left me tingling with excitement. Living the habits of love he describes seems difficult at first, but then he offers real life examples of people doing just that, and what seemed far too idealistic begins to seem doable even by the likes of me." -Archbishop Desmond Tutu

"Ed Bacon's handbook for loving and living offers us practical ways of moving past the kind of fear-based thinking and destructive choices that cloud our hearts and keep us trapped in half-lived lives. Ed's exuberance and experience resound on every page, calling us joyfully to live the habits of love." -Elizabeth Lesser, Cofounder, Omega Institute
Author, Broken Open: How Difficult Times Can Help Us Grow

"Open this book and suddenly you're sitting in a pew or on a porch, mesmerized by stories and sermons you'll want your heart to memorize for life. They made me laugh and cry and want to be a better person." -Regina Brett, author of God Never Blinks and Be the Miracle

"Rev Ed Bacon is a wise, honest, and welcoming teacher who gently affirms that the power of love is always near and restorative, if we can meet its responsibility to live with an open heart. Whatever path you follow, this personal and universal book models the habits-very much in reach-by which we can ground our lives in love." -Mark Nepo, author of The Book of Awakening and Seven Thousand Ways To Listen

"Even after having read 8 Habits of Love cover to cover, I return to its pages everyday as I would to the company of a dear friend. With disarming transparency, Reverend Ed offers us stories, insight and practical guidance to create a contagion of love, a revolution of the heart." -Kim Rosen, author of Saved by a Poem: The Transformative Power of Words

"This very wise book is a powerful, personal and practical invitation to move beyond the fear-based life that marks so much of contemporary culture into a life grounded in the habits of love." -Marcus Borg, author of bestselling The Heart of Christianity

"Rector of All Saints church in Pasadena, Calif., Bacon discusses 21st-century spirituality and the critical role of love as a liberating, joy-filled and guiding force; he has "an unshakeable certainty that within each and every human being there lives a core of love and goodness." He offers eight simple habits-play, forgiveness, stillness, truth, candor, compassion, community, generosity-to change the way we think and behave. The habit of generosity opens hearts so one may give and receive. Practicing the habit of candor deepens relationships, and the stillness habit restores a calm confidence. The habit of truth causes us to challenge our assumptions about ourselves and others and leads to growth. Along with personal anecdotes, memories, and stories of soul survivors, Bacon interpolates the thoughts of poets, sages, scholars, and writers, such as the Dalai Lama, Thomas Merton, and Alice Walker. Readers who find a life-giving energy pulsing in these pages will pass this book on to those they love." -Publisher's Weekly
Grand Central Life & Style, 9781455500024, 240pp.
Publication Date: September 17, 2013
About the Author
For the past fifteen years Rev. Ed Bacon has been the Rector of All Saints Church in Pasadena, with over 4,000 congregants, including celebrities like Madonna. He has been a guest on Oprah Winfrey's Soul Series on Oprah & Friends Radio, discussing 21st century spirituality, and has been a guest panelist in the Spirituality 101 segment of The Oprah Show's "Living Your Best Life" series.