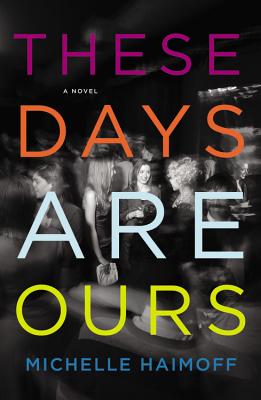 These Days Are Ours
Paperback

* Individual store prices may vary.
Other Editions of This Title:
Digital Audiobook (9/3/2014)
Description
Commencement meets Less Than Zero in this novel about a young woman who, still jobless after college and living in her family's 5th Avenue penthouse, tries to make sense of her wide-open future in post-9/11 Manhattan.

Six months after September 11th, New Yorkers are instructed to get on with their lives despite the terror advisories, streets filled with 9/11 merchandise, and mail that may contain Anthrax.

But for Hailey, still jobless after college and living in her family's Fifth Avenue penthouse, getting on with life means getting closer to Michael Brenner, the Princeton graduate and future human rights lawyer who seems to have it all. The city feels as if it's on the brink of apocalypse, and seeking out any sort of future seems pointless. So Hailey and her friends - Katie, already working at Morgan Stanley; Randy, a trust-fund kid who wears sweaters with holes in them; and Jess, confident of her future success regardless of her present inertia - stay out all night, dream up get rich quick schemes and aspire to greatness while questioning how much that greatness really matters.

< But when Hailey meets Adrian, a transplanted Pennsylvanian and recent Brown graduate who doesn't belong to Hailey's privileged mileu, she begins to realize that her view of the world might not be the only one there is, and soon she is questioning everything she thought she knew.
 
Praise For These Days Are Ours…
"Engrossing...Haimoff's writing resonates with an authenticity and gravitas that books about girls trying to find themselves in the big city often lack. Her details about elite schools and childhood haunts in Manhattan pepper Hailey's memories in often touching ways. A thoughtful novel for our time."

—Publishers Weekly (starred review)

"Whether she's ruthlessly dissecting the mating habits of disaffected urbanites, or evoking the emotional complexity of coming of age in New York City in the aftermath of 9/11, Haimoff's writing is smart, witty, honest, and never anything less than utterly engaging."—Jonathan Tropper, New York Times bestselling author of This is Where I Leave You

"Beware reader: this novel is so addictive, once you start reading, you will have to cancel all of your plans. But you'll hardly even notice; Michelle Haimoff has such a fresh and inviting voice, and a gift for making characters live, you'll feel surrounded by friends."—Alison Espach, author of The Adults

"Michelle Haimoff has done it: This novel's brilliance lies not just in Haimoff's careful plotting, her precise language, her masterful ear for dialogue, the beautiful depth of even her most minor characters, and protagonist Hailey's hilarious, wonderful voice, but in the way she captures the defining mood of a generation. It reminded me of some of my favorite novels of New York, Bright Lights, Big City, in particular. I will confess: I read it twice. And have not stopped thinking about it since."—Joanna Smith Rakoff, author of A Fortunate Age
Grand Central Publishing, 9781455500291, 304pp.
Publication Date: February 28, 2012
About the Author
Michelle Haimoff is a writer and blogger whose writing has appeared in the New York Times, the Los Angeles Times, PsychologyToday.com, and the Huffington Post. She is a founding member of NOW's Young Feminist Task Force and blogs about feminist issues at genfem.com.