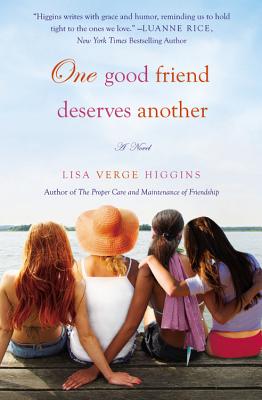 One Good Friend Deserves Another
Paperback

* Individual store prices may vary.
Description
HOW MANY OF THESE DATING RULES HAVE YOU BROKEN?

1. Choose Your Own Man
2. Make Sure Your Friends Approve
3. No One-Night Stands
4. Trust Your Instincts
5. Never Make the Same Mistake Twice
6. After a Break-Up, Wait Six Months Before Dating Again.

Dhara, Kelly, Marta, and Wendy have been the closest of friends since college. So close, that after a series of romantic disasters, they bond together to create Rules of Relationships to keep their hearts safe.

Years later, the rules seem to have worked . . . until Marta discovers that her hot boyfriend is married, Kelly begins a risky love affair, Wendy inches closer to a pre-marital infidelity, and, most shocking of all, Indian-American Dhara suddenly agrees to an arranged marriage.

Hearts are about to be broken and the bonds of friendship are tested. Is it possible to find true love, when you're breaking all the rules?
Praise For One Good Friend Deserves Another…
"Engaging . . . Higgins scores with a richly told story of what every girl wants, and the friends who'd sacrifice everything to help her get it."
—
Publishers Weekly
"Top Pick! 4 1/2 Stars! Higgins doesn't use flowery verse; she presents hard realities, dysfunction and, best of all, possibilities and hope...in a novel that you won't soon forget."
—
RT Book Reviews
"Characters that could have been stock (the rich girl, the Trekkie programmer) have a depth that is strengthened by relationships with family, boyfriends, the past, and, most important, friends."
—
Booklist
"Get the first 'Best Read' of 2011...a love story about what it really means to be a friend."
—
Debbie Haupt, B&N General Fiction Book Club on The Proper Care and Maintenance of Friendship
"Higgins writes with grace and humor, reminding us to hold tight to the ones we love."
—
Luanne Rice, New York Times bestselling author of The Deep Blue Sea for Beginners on The Proper Care and Maintenance of Friendship
"The Proper Care and Maintenance of Friendship
is a lovely novel with moments of deeply moving insight into what it means to be a mother, a wife, and a friend. Read it and share it with your own friends-you'll be glad you did!"—
Nancy Thayer, New York Times bestselling author of Beachcombers on The Proper Care and Maintenance of Friendship
"Full of humor, love, and life lessons, this is an uplifting and satisfying novel that lingers long after the last page."
—
Elizabeth Noble, bestselling author of The Reading Group and The Girl Next Door on The Proper Care and Maintenance of Friendship
5 Spot, 9781455500307, 352pp.
Publication Date: June 5, 2012
About the Author
While studying for her Ph.D. in chemistry, RITA finalist Lisa Verge Higgins penned twelve romance novels under her maiden name. She lives in New Jersey with her husband, an attorney, and their children.