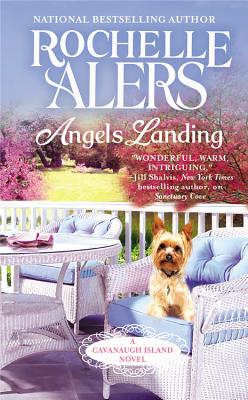 Angels Landing (Mass Market Paperbound)
Forever, 9781455501380, 386pp.
Publication Date: August 28, 2012
* Individual store prices may vary.
or
Not Currently Available for Direct Purchase
Description
Sometimes love can take you by surprise.
Kara Newell has a big-city life that needs a major shake-up. Her dedication as a social worker is unwavering, yet her heart tells her that there is more to life than just work. Kara gets the push she needs when she shockingly inherits a large estate on an island off the South Carolina coast. Now the charming town of Angels Landing awaits her . . . along with a secret family she never knew she had.
After surviving war, loss, and heartbreak, ex-marine Jeffrey Hamilton takes his position as sheriff of idyllic Cavanaugh Island very seriously. So he is the perfect person to watch over the beautiful, confident woman who has turned her new family's expectations upside down-and stepped into the crosshairs of angry local residents.
But soon Kara becomes more than just a job to him, and he begins to need her in ways he never expected. As Kara and Jeffrey confront the town gossips together, they'll learn to face their fears and forgive their pasts in order to find a future filled with happiness in Angels Landing.

About the Author
Bestselling author, Rochelle Alers has nearly two million copies of her novels in print. She is also the recipient of numerous awards, including the Gold Pen Award, the Emma Award, Vivian Stephens Award for Excellence in Romance Writing, the Romantic Times Career Achievement Award and the Zora Neale Hurston Literary Award.
Praise For Angels Landing…
"4/5 stars! Enticing and a pleasure to read, Haven Creek invites the reader in and entertains so well one doesn't want to leave. It is a gentle moving story that lets love find its way through the tangles and troubles of life and the flaws of characters."
-Long and Short Reviews on HAVEN CREEK

"Rochelle Alers is the rock star of romance and proves it with each new book in this series."
-The Reading Reviewer on HAVEN CREEK

"4 out of 5 roses! I loved how Morgan was a strong individual who wouldn't compromise about things that were important to her."
-Seduced By a Book on HAVEN CREEK

"... even though I hadn't read the first two books in this series I had no problem falling right into Morgan and Nate's story."
-Love to Read for Fun on HAVEN CREEK

"Haven Creek is a lovely, warm-hearted romance sure to please those who love a happily-ever-after style ending! Nicely done, Rochelle Alers!"
-Crystal Book Reviews on HAVEN CREEK

"You can't help but fall in love with the small town these characters live in, and their southern charm is so adorable ... It was a quick, cute read that I just couldn't get enough of."
-Reading With Style on HAVEN CREEK

"... highly recommend this nice, enjoyable and relaxing romance novel."
-Jandy's Books on HAVEN CREEK

"Cavanaugh Island has an appealing population who show all of humanity's virtues and vices, some very humorous, some wrenching. Readers will enjoy returning to this setting and Nate and Morgan's love story."
-Romance Reviews Today on HAVEN CREEK

4 1/2 STAR REVIEW! "It's always a pleasure to discover little-known facts about racial history in America. Even better, the slow build to the love affair between the leads is believable and satisfying, on all levels. Sit back and enjoy!"
-RT Book Reviews on ANGELS LANDING

"Appealing, mature protagonists, a colorful cast of islanders, and a rewarding romance that realistically unfolds add to this fascinating, gently paced story that gradually reveals its secrets as it draws readers back to idyllic Cavanaugh Island."
-Library Journal on ANGELS LANDING

"An excellent love story...huge messages throughout this book made for a very loving and interesting summer read."
-Publishers Weekly on ANGELS LANDING

"These are strong character-driven books that always contain interesting twists, and a strong sense of place."
-Romance Reviews Today on ANGELS LANDING

"I could not stop reading...You will not be disappointed."
-Night Owls Romance on ANGELS LANDING

"Angels Landing is a heartwarming novel...I thoroughly enjoyed [it] and recommend it to all romantics."
-Fresh Fiction on ANGELS LANDING

"Angels Landing is quintessential romance with a hint of suspense."
-Romance Junkies on ANGELS LANDING

"LOVED this book! It was one of those 'feel-good' reads that I would recommend to anyone who enjoys memorable characters, family intrigue, and romantic suspense."
-Kari's Korner Reviews on ANGELS LANDING

"An exhilarating contemporary...made incredibly fresh by insight into the local history of islander African-Americans. Readers will appreciate the return to Cavanagh Island."
-http://genregoroundreviews.blogspot.com on ANGELS LANDING

"With this introduction to the Cavanaugh Island series, Alers returns to the Lowcountry of South Carolina. Readers will enjoy the ambiance, the delicious-sounding food and the richly described characters falling in love after tragedy. This is an excellent series starter."
-RT Book Reviews on SANCTUARY COVE

"Soaked in an old-fashioned feel, Alers's hyper-realistic style... will appeal to readers looking for gentle, inexplicit romance."
-Publishers Weekly on SANCTUARY COVE

"I truly and thoroughly enjoyed the book. I found it a wonderful, warm, intriguing romance and was happy to find a new author to read."
-Jill Shalvis, New York Times best-selling author of Simply Irresistible on SANCTUARY COVE

"Carolina Lowcountry comfort food, a community of people who care, and a wonderfully emotional love story. Who could ask for more? Sanctuary Cove is the kind of place you visit and never want to leave."
-Hope Ramsay, bestselling author of Welcome to Last Chance on SANCTUARY COVE

"Sanctuary Cove is a gripping, second chance at love romance...[its] real and truly inspiring. I highly recommend it!"
-Night Owl Reviews on SANCTUARY COVE

"SANCTUARY COVE is a beautiful romantic story about second chances."
-The Romance Readers Connection on SANCTUARY COVE
Advertisement