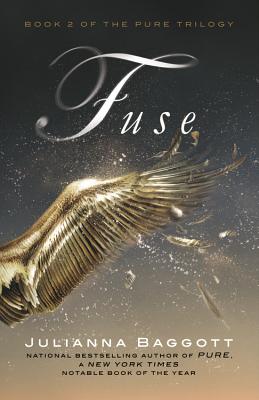 Fuse (The Pure Trilogy #2)
Paperback

* Individual store prices may vary.
Other Editions of This Title:
Digital Audiobook (2/18/2013)
Compact Disc (2/1/2013)
Prebound (9/10/2013)
Hardcover, Large Print (4/1/2013)
Hardcover (2/19/2013)
Description
Bestselling author Julianna Baggott presents the second volume in her new post-apocalyptic, dystopian thriller trilogy.

We want our son returned.

This girl is proof that we can save you all. If you ignore our plea, we will kill our hostages one at a time.

To be a Pure is to be perfect, untouched by Detonations that scarred the earth, and sheltered inside the paradise that is the Dome. But Partridge escaped to the outside world, where Wretches struggle to survive amid smoke and ash. Now, at the command of Partridge's father, the Dome is unleashing nightmare after nightmare upon the Wretches in an effort to get him back.

At Partridge's side is a small band of those united against the Dome: Lyda, the warrior; Bradwell, the revolutionary; El Capitan, the guard; and Pressia, the young woman whose mysterious past ties her to Partridge in ways she never could have imagined. Long ago a plan was hatched that could mean the earth's ultimate doom. Now only Partridge and Pressia can set things right.

To save millions of innocent lives, Partridge must risk his own by returning to the Dome and facing his most terrifying challenge. And Pressia, armed only with a mysterious Black Box containing a set of cryptic clues, must travel to the very ends of the earth, to a place where no map can guide her. If they succeed, the world will be saved. But should they fail, humankind will pay a terrible price . . .
Praise For Fuse (The Pure Trilogy #2)…
"Beyond inventive"
—Xpresso Reads

"Baggott's highly anticipated postapocalyptic horror novel...is a fascinating mix of stark, oppressive authoritarianism and grotesque anarchy...Baggott mixes brutality, occasional wry humor, and strong dialogue into an exemplar of the subgenre."—Publisher's Weekly (STARRED review) on Pure

"Us 99 percenters will live outside the gates come the future, and it won't be pretty-especially once the nukes start popping... It's a bonus that the hero of the piece is a young girl, which ought to serve as inspiration for more than a few readers. Whether Baggott's imagined world is one that you'd want to live in is another matter entirely, of course. Damned Detonations!"—Kirkus on Pure

"A great gorgeous whirlwind of a novel, boundless in its imagination. You will be swept away."—Justin Cronin, New York Times bestselling author of The Passage on Pure

"A boiling and roiling glorious mosh-pit of a book, full of wonderful weirdness, tenderness, and wild suspense. If Katniss could jump out of her own book and pick a great friend, I think she'd find an excellent candidate in Pressia."—Aimee Bender, New York Times bestselling author of The Particular Sadness of Lemon Cake on Pure

"From the first page on, there are no brakes on this book. It's nearly impossible to stop reading as Baggott delves fearlessly into a grotesque and fascinating future populated by strangely endearing victims (and perpetrators) of a wholly unique apocalypse. And trust me, Pure packs one hell of an apocalypse."—Daniel H. Wilson, New York Times bestselling author of Robopocalypse

"Pure is a dark adventure that is both startling and addictive at once. Pressia Belze is one part manga heroine and one part post-apocalyptic Alice, stranded in a surreal Wonderland where everyone and everything resonates with what has been lost. Breathtaking and frightening. I couldn't stop reading Pure."—Danielle Trussoni, bestselling author of Angelology

"Original and masterfully written, Pure features great characters and a story that is, from page to page, startling, harrowing, and touching. I recommend it wholeheartedly."—Jeff VanderMeer, World Fantasy Award winner and bestselling author of City of Saints and Madmen

"This new novel of Julianna Baggott's is so bizarre and wonderful and transportingly self-contained and yet so resonantly rich that I truly forgot where I was or who I was. . . . I was profoundly enchanted. . . . Pure is not just the most extraordinary coming-of-age novel I've ever read, it is also a beautiful and savage metaphorical assessment of how all of us live in this present age. This is an important book, for adults young and old, by one of our finest writers."—Robert Olen Butler, Pulitzer Prize winner and author of A Good Scent From a Strange Mountain

"Pure is a post-apocalyptic thrill ride, filled with wildly inventive characters whose journey of struggle and revolution manifests as a fast-paced narrative full of promise and hope. As visceral and kinetic as it is socially relevant, Pure is bursting with imagination and epic adventure. Baggott is here to stay. And we are all the beneficiaries."—Steven Schneider, producer of Paranormal Activity I and II

"Julianna Baggott's Pure is testament to the might and beauty of Grimm-dark imagination. The devils of the human psyche will not be quelled, and this book, like the best of Poe, intrepidly confronts what our bad clan is capable of, the fragility of all human feeling, and the possibility that hope can redeem the wastelands we've made. A sublime novel by one of our most important storytellers."—William Giraldi, author of Busy Monsters

"Julianna Baggott has created a mesmerizing, nightmarish apocalyptic world, populated by denizens who suffer out bleak existence bearing the literal marks of what was closest to them in their previous life. The story that emerges from the ashes shines like a jewel on a dark horizon, and this tale about family, the power of faith, and the search for love is sure to haunt the imagination of readers for a long, long time."—Matt Bondurant, author of The Wettest County in the World on Pure
Grand Central Publishing, 9781455503100, 496pp.
Publication Date: September 10, 2013
About the Author
Julianna Baggott is the author of numerous novels, including Pure, which was a New York Times Notable Book in 2012. Her poems have been reprinted in Best American Poetry, and her essays have appeared in the New York Times Book Review, the Washington Post, the Boston Globe, and on NPR's All Things Considered. She teaches at the College of the Holy Cross and in Florida State University's College of Motion Picture Arts.