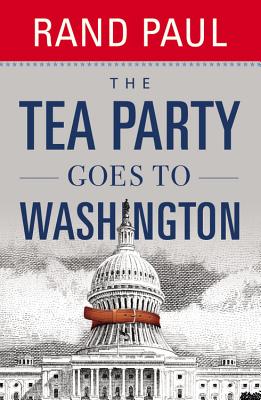 The Tea Party Goes to Washington (Hardcover)
Center Street, 9781455503117, 254pp.
Publication Date: February 22, 2011
* Individual store prices may vary.
or
Not Currently Available for Direct Purchase
Description
If the midterm elections were a declaration of war on the status quo, Rand Paul leads the battle charge. Voters fearful of growing government and debt have found voice in the Tea Party phenomenon and the movement continues to deliver a message that Washington, D.C. has found impossible to ignore.
In THE TEA PARTY GOES TO WASHINGTON, the newly elected senator and self-described "constitutional conservative" explains why his party has to stand by its limited government rhetoric and why the federal government must be stuffed back into its constitutional box. Given the problems our nation faces, these are not mere suggestions, but moral imperatives.
Rand Paul and those who voted for him want to stop borrowing, end the bailouts, and entitlements and the spending. In THE TEA PARTY GOES TO WASHINGTON you'll learn:
The history of the Tea Party and why it isn't "extreme" How both parties operate outside the Constitution Rand's plan for a balanced budget Why the Tea Party will endureNow is the time to get America back on track-- this is the moment of the new revolution that will take us back to our grass roots, to the country of our founding fathers.
It's a new day in Washington-- as the Tea Party graduates from populist outrage to political influence, Rand Paul stands poised to become one of its greatest champions.
About the Author
US Senator-elect Dr. Rand Paul lives in Bowling Green, Kentucky with his wife and three children. He has been a practicing opthamologist for 17 years. His run for the Kentucky US Senate was his first bid for political office. He is the son of Ron Paul, Texas congressman and 2008 Republican Presidential candidate.
Praise For The Tea Party Goes to Washington…
"An exciting and need call to change for all Americans"

"Senator Paul has given us a blueprint for limited government that would make Jefferson estatic...the Senator speaks in words we understand with conviction we all admire and an understanding of the issues that is breathtaking."
Advertisement