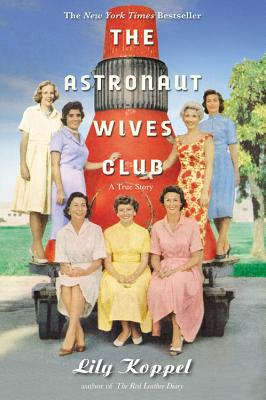 The Astronaut Wives Club (Hardcover)
A True Story
Grand Central Publishing, 9781455503254, 288pp.
Publication Date: June 11, 2013
Other Editions of This Title:
Digital Audiobook (6/10/2013)
Paperback (6/3/2014)
Compact Disc (6/18/2013)
Hardcover, Large Print (6/11/2013)
Compact Disc (4/7/2015)
* Individual store prices may vary.
Description
Discover the true story of the women who stood beside some of the greatest heroes of American space travel in this New York Times bestseller that delivers "a truly great snapshot of the times" (Publishers Weekly) that inspired a limited TV series on ABC!

As America's Mercury Seven astronauts were launched on death-defying missions, television cameras focused on the brave smiles of their young wives. Overnight, these women were transformed from military spouses into American royalty. They had tea with Jackie Kennedy, appeared on the cover of Life magazine, and quickly grew into fashion icons.

Annie Glenn, with her picture-perfect marriage, was the envy of the other wives; JFK made it clear that platinum-blonde Rene Carpenter was his favorite; and licensed pilot Trudy Cooper arrived with a secret that needed to stay hidden from NASA. Together with the other wives they formed the Astronaut Wives Club, providing one another with support and friendship, coffee and cocktails.

As their celebrity rose--and as divorce and tragedy began to touch their lives--the wives continued to rally together, forming bonds that would withstand the test of time, and they have stayed friends for over half a century.
About the Author
Lily Koppel is the bestselling author of The Red Leather Diary. She has written for the New York Times, the New York Times Magazine, Huffington Post, and Glamour.
Praise For The Astronaut Wives Club: A True Story…
"The men catapulted into space in the 20th century were interesting, sort of. The women they left back on earth were fascinating. . . . A lively account of how the wives coped with fame, fear, [and] loneliness."—People (A "Great Summer Read" selection)

"This is one of those light, tasty summer reads you'll guzzle down like a milk shake."—Entertainment Weekly (grade: B+)

"[A] perfect beach read."—Entertainment Weekly's "Must List"

"Breezy and entertaining. . . [Koppel] deserves credit for recognizing the richness of the subject matter. More than 50 years after its inception, many of us now take the space program for granted, but Koppel reminds readers just how bold and innovative it felt in the Sputnik era, and how mysterious the wilderness of space remains. . . Koppel is chronicling a cultural moment more than any particular person, and in this she excels. The details are superb, from the ham loaves the women cooked to the Virginia Slims they chain-smoked, the fur hot pants and the Pucci dresses they wore, the luaus and shrimp-boil parties they threw, and the Mercury-capsule-shaped community swimming pool they shared."—Curtis Sittenfeld, Washington Post

"A remarkable story of perseverance and friendship in a time when women had few rights."—The Daily Beast (A "Hot Read" selection)

"A fair and accomplished reporter. . . . Lily Koppel offers a grounded, irresistible and sociable social history. . . . Koppel's book deftly delivers The Wife Stuff. . . . Koppel does an excellent job of capturing a group portrait with enough highlights, low points, sunny spots and shadows for individual features to emerge. . . . The Astronaut Wives Club is wholly and consistently in Koppel's voice: smart, evocative, informed and warm-an electric fireside chat with the women who put men on the moon."—Chicago Tribune

"[A] true (juicy) story. Gotta love non-fiction that feels like a beach read: Lily Koppel's The Astronaut Wives Club chronicles the wives of 1960s astronauts. . . . Put down that mystery and pick up some history!"—Redbook

"[A] fascinating, behind-the-scenes look at the lives of the women married to the astronauts...Impressive."—The Dallas Morning News

"Intriguing, pleasantly gossipy and often-touching. . . . in its light and engaging way, The Astronaut Wives Club is a reflection on the gap between image and reality, and a glimpse of an unstable time when "good wives" were reckoning the cost of that role."—Columbus Dispatch

"[An] entertaining and quirky throwback...This is truly a great snapshot of the times."—Publishers Weekly (starred review)

"Engaging. . . . [Koppel] hits the mark, crafting an exceptional story that seriously examines the imperfection and humanity of America's heroic astronauts, their wives, and their families. This work will hold vast appeal for armchair historians, and those interested in feminism, women's history, and 20th-century history."—Library Journal (starred review)

"Insightful social history with a light touch."—Kirkus

"Mad Men fans and history buffs alike won't want to miss a new book about . . . the lives of the astronauts' wives. . . . . We meet the Mercury Seven women in the first chapter of The Astronaut Wives Club, and author Lily Koppel does a nice job of staying close to their stories. By the time you see the women's faces in the pictures, you'll feel like you're a member of the gang. . . . It's hard to believe no one has already written their story, and this reader is glad Koppel finally did."—BookPage (A "Nonfiction Top Pick")

"Koppel has launched her talents into another orbit by writing a book about America's space program that is not only smart, but also fun and sexy . . . . The Astronaut Wives Club is a clever and engaging book celebrating a group of women who, today, are often overlooked -- if not forgotten. It is reasonable to claim that these women held the space program together in its early years. Koppel pays tribute to their emotional stamina in a sympathetic yet unburdened manner. The Astronaut Wives Club will most definitely be embraced in the celebrity-thirsty world that we still live in today; its universal appeal is guaranteed to span generations and demographics of readers. Pack this book along on your summer vacation and you are assured to have a good read, as well as a conversation starter, wherever your spacecraft takes you."—Bookslut

"With an eye for colorful detail, Koppel tells the stories of the women behind the astronauts. . . . The book often reads like a novel, energized by each moon mission."—Barnard Magazine

"There's humor and heartache... we're transported back in time. This book is a Baby-Boomer's dream and is perfect for anyone who's imagined moving among the stars...[it] will send you over the moon."—TDN.com

"The only thing more delicious than the idea for this book is its execution. Come, all you Mad Men lovers, you girl-bonding-opus fans, you amateur historians who've looked under rugs for unlikely heroines...The Astronaut Wives Club rockets us back to the innocence of a unified mid-century America's space race triumphalism and to an unselfconscious sisterhood-is-powerful in the bud-nice things to recall, and maybe take a tiny bit of heed from, in these more sophisticated but much more complicated times."—Sheila Weller, author of Girls Like Us

"If you thought the only heroes in the history of NASA were its astronauts; if you thought the all-American family regularly seen in the pages of Life magazine was the full story of those astronauts' private lives; and if you've ever dreamed of supersonic romance, dinners at the Kennedy White House, through-the-roof beehives, a group of friends and neighbors going through this crazy time with you, and a celebrity hero husband who is the most admired man in the nation (yet, could die at any minute) ... then you're ready to sign up for Lily Koppel's thrilling, magical, nostalgic, and eye-opening Atlas rocket of a read, The Astronaut Wives Club."—Craig Nelson, bestselling author of Rocket Men and The Age of Radiance

"The Astronaut Wives Club is a fun-loving romp about the devoted women behind NASA's herculean Moon Shot effort. Lily Koppel writes with humor, cunning, and integrity. I found her recounting of the Mercury, Gemini, and Apollo programs riveting. Highly recommend!"—Douglas Brinkley, Professor of History at Rice University and author of Cronkite

"The Astronaut Wives Club is spectacular, both in its intimacy and its reach. Lily Koppel pulls out delicious behind the scenes details of the stresses, formalities, pleasures and travails of being the women behind the men on the moon."—Karen Abbott, bestselling author of American Rose and Sin in the Second City
or
Not Currently Available for Direct Purchase