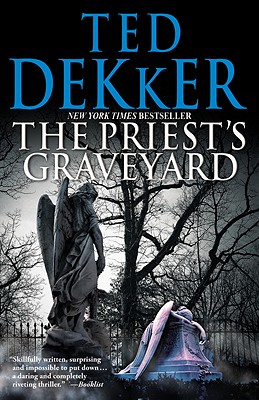 The Priest's Graveyard (Paperback)
Center Street, 9781455504008, 368pp.
Publication Date: October 18, 2011
* Individual store prices may vary.
or
Not Currently Available for Direct Purchase
Description
Two abandoned souls are on the hunt for one powerful man. Soon, their paths will cross and lead to one twisted fate.

Danny Hansen is a Bosnian immigrant who came to America with hopes of escaping haunted memories of a tragic war that took his mother's life. Now he's a priest who lives by a law of love and compassion. It is powerful men and hypocrites who abide by legal law but eschew the law of love that most incense Danny. As an avenging angel, he believes it is his duty to show them the error of their ways, at any cost.

Renee Gilmore is the frail and helpless victim of one such powerful man. Having escaped his clutches, she now lives only to satisfy justice by destroying him, regardless of whom she must become in that pursuit.

But when Danny and Renee's paths become inexorably entangled things go very, very badly and neither of them may make it out of this hunt alive.

Judge not, or you too will be judged.
About the Author
TED DEKKER is a "New York Times" bestselling author of more than thirty novels with a total of more than 10 million books in print. He is known for thrillers that combine adrenaline-laced plots with incredible confrontations between good and evil.
Praise For The Priest's Graveyard…
Praise for THE PRIEST'S GRAVEYARD:

"Dekker's new thriller is skillfully written, surprising, and impossible to put down. It might, in fact, be his best novel to date...This is an extremely well-thought-out novel, precisely plotted, and, like a good magic trick, deceptive and startling. Although the story's right-angle plot twist is jolting, it doesn't feel forced or unbelievable, and the book's atmosphere is appropriately dark and unsettling, kind of like the feeling you get from the Saw movies (although this book isn't nearly as graphic or twisted as those). A daring and completely riveting thriller."

-- Booklist

The Priest's Graveyard by Ted Dekker is an amazing novel, utterly compelling, the story of an abandoned girl and a strange, vengeful priest whose paths eventually cross-with terrifying consequences. Intensely readable, well written, and completely original.
--Douglas Preston, co-creator of the famed Pendergast series of novels




"The Priest's Graveyard is a thrill-a-minute ride, with heart-pounding action and a twist that you'll never see coming."
-- Tess Gerritsen, New York Times bestselling author of Ice Cold

"Here's the best part about The Priest's Graveyard: It's smart enough to realize that, for many, the scariest thing in life isn't a monster or something that bumps in the night. It's love. Love is terrifying. And powerful. And unstoppable. And if you don't already know that, you're about to see why. The Priest's Graveyard will haunt you -- long after you want it to."
-- Brad Meltzer, #1 New York Times bestselling author of The Book of Fate and The Inner Circle

"If you've never visited Ted Dekker's world, do it. The Priest's Graveyard is perfect entertainment. Beguiling, compelling, challenging, and riveting--fantastic gimmick-free storytelling--that's what you get with Ted Dekker. Don't pass this up."
-- Steve Berry, New York Times Bestselling Author of The Emperor's Tomb

Advertisement