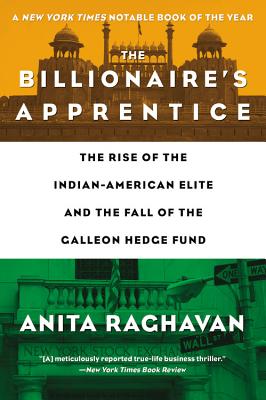 The Billionaire's Apprentice (Paperback)
The Rise of The Indian-American Elite and The Fall of The Galleon Hedge Fund
Grand Central Publishing, 9781455504015, 512pp.
Publication Date: June 2, 2015
Other Editions of This Title:
Digital Audiobook (6/3/2013)
Hardcover (6/4/2013)
* Individual store prices may vary.
Description
Just as WASPs, Irish-Catholics and Our Crowd Jews once made the ascent from immigrants to powerbrokers, it is now the Indian-American's turn. Citigroup, PepsiCo and Mastercard are just a handful of the Fortune 500 companies led by a group known as the "Twice Blessed." Yet little is known about how these Indian emigres (and children of emigres) rose through the ranks. Until now...

The collapse of the Galleon Group--a hedge fund that managed more than $7 billion in assets--from criminal charges of insider trading was a sensational case that pitted prosecutor Preet Bharara, himself the son of Indian immigrants, against the best and brightest of the South Asian business community. At the center of the case was self-described King of Kings, Galleon's founder Raj Rajaratnam, a Sri-Lankan-born, Wharton-educated billionaire. But the most shocking allegation was that the éminence grise of Indian business, Rajat Gupta, was Rajaratnam's accomplice and mole. If not for Gupta's nose-to-the-grindstone rise to head up McKinsey & Co and a position on the Goldman Sachs board, men like Rajaratnam would have never made it to the top of America's moneyed elite.

Author Anita Raghavan criss-crosses the globe from Wall Street boardrooms to Delhi's Indian Institute of Technology as she uncovers the secrets of this subculture--an incredible tale of triumph, temptation and tragedy.


About the Author
Anita Raghavan was born in Malaysia but came to the United States in 1970. A graduate of the University of Pennsylvania, she spent eighteen years at the Wall Street Journal where she won the Overseas Press Club award for her coverage of the mergers and acquisition boom in Europe, and the New York Press Club award for her reporting on the the near death of the hedge fund Long-Term Capital. In 2008, she became the London Bureau Chief for Forbes. Currently she is a contributor to New York Times Dealbook and Forbes.
Praise For The Billionaire's Apprentice: The Rise of The Indian-American Elite and The Fall of The Galleon Hedge Fund…
"Thanks to author Anita Raghavan's intrepid reporting, THE BILLIONAIRE'S APPRENTICE combines the drama of the federal government unraveling an insider trading ring with the historical sweep of immigrants rising from nothing to the corridors of corporate power."
—Bethany McLean, co-author of the bestsellers The Smartest Guys In the Room and All the Devils Are Here


"Anita Raghavan's journalistic and writing skill comes through on every page of THE BILLIONAIRE'S APPRENTICE. I couldn't put it down; it's a true story that reads like a thriller."—William D. Cohan, bestselling author of The Last Tycoons, House of Cards, and Money and Power

"THE BILLIONAIRE'S APPRENTICE is that rare work of nonfiction that follows an ambitious hero as he climbs to the pinnacle of power inside the top boardrooms of corporate America, gets seduced, and falls in a spectacular insider trading scandal. This is a modern-day Greek tragedy that plays out among the upper echelons of Wall Street, Silicon Valley, and the global business elite. Doggedly reported and utterly compelling."—Bryan Burrough, bestselling author of Barbarians at the Gate and The Big Rich


"Raghavan excels with her account . . . She provides an insightful account of South Asian immigration to the U.S. since the 1960s and shows how relations established in India's elite education system provided some of the ties that bound the conspirators together."—Kirkus

"Through meticulous research, copious history, vivid characters, and entertaining prose, Raghavan weaves together many different worlds, eras, and personality types to deliver a compelling view of the multi-cultural politics of today's Wall Street."—Huffington Post

"Riveting."—Bloomberg

"The best form of journalism, an early draft of history."—The New York Times Book Review


"Anita Raghavan's THE BILLIONAIRE'S APPRENTICE [is] a riveting account of the takedown of Raj Rajaratnam...[Ms. Raghavan] has written a briskly paced account full of fascinating detail...this book deserves to be on the shelf of anyone lusting after a little Wall Street schadenfreude this summer."
—Wall Street Journal

"[a] deeply researched, fascinating and well-written book."
—Financial Times


"In THE BILLIONAIRE'S APPRENTICE Raghavan provides readers with the best account yet of Rajaratnam and his Indian American 'mafia' - who they were, what they did and how they did it."—Washington Post