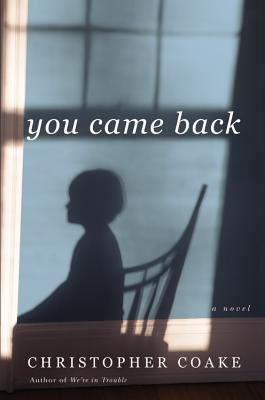 You Came Back (Hardcover)
A Novel
Grand Central Publishing, 9781455506705, 432pp.
Publication Date: June 12, 2012
Other Editions of This Title:
Digital Audiobook (6/11/2012)
Paperback (3/12/2013)
Compact Disc (6/1/2012)
Pre-Recorded Audio Player (6/1/2012)
* Individual store prices may vary.
Description
Thirty-something midwesterner Mark Fife believes he has successfully moved past the accidental death of his young son Brendan, as well as his subsequent divorce from his college sweetheart Chloe. He's successful, he's in love again, and he believes he's mastered his own memories.

But then he is contacted by a strange woman who tells him not only that she owns his old house, but that she believes it to be haunted by Brendan's ghost. Will Mark--who does not believe in ghosts--come to accept the mounting evidence that Brendan's is real? Will his engagement to his new love Allison be threatened by the reappearance in Mark's life of Chloe--who does believe? If the ghost is real, what can these two wounded parents do to help their son?

YOU CAME BACK examines the beauty and danger of belief in all its forms--not only belief in the supernatural, but in the love that binds parents and children, husbands and wives.
About the Author
Christopher Coake is the author of WE'RE IN TROUBLE, which was chosen for the PEN/Bingham Award of 2005. In addition, Coake was among "Granta's Best of Young American Novelists" in 2007. His stories have been published in several literary journals. A native Hoosier, he received his M.F.A. in fiction from Ohio State University. He now lives in Reno, where he teaches creative writing at the University of Nevada.
Praise For You Came Back: A Novel…
"When I finished the last page of Christopher's Coake's amazing new novel, I set the book down with a sense of wonder. There's a ghost in this story, to be sure, but this remarkable author is less concerned with the supernatural than with the all-too-too real specters that haunt us all-the ghosts of our former selves, the ghosts of the lives we might have lived had just a few things turned out differently. YOU CAME BACK will stay with me forever. What an incredible writer."—
Jennifer Finney Boylan, author of She's Not There and I'm Looking Through You
"Sometimes when you're reading these stories, you forget to breathe...They're beautifully written, and they have bottom, but they're never dull and they all contain striking and dramatic narrative ideas." (Praise for
We're in Trouble
)—
Nick Hornby, author of A Long Way Down, in The Believer
"Uncanny, clear-eyed...[Coake] is wildly engaging as he explores one theme--love in the face of harrowing death (or near-death)--from seemingly every angle.
A-.
" (Praise for
We're in Trouble
)—
Entertainment Weekly
"In his striking debut collection, Coake considers how character is revealed under pressure...With unadorned but dramatic, economical prose, Coake explores the human capacity for altruism and cowardice in these high-stakes tales." (Praise for
We're in Trouble
)—
Publisher's Weekly
"Gripping reading from a talented newcomer." (Praise for
We're in Trouble
)—
Booklist

Ghost stories, more than most other tales, are at heart love stories. At their core is the fact that someone, on this side or the other, just flat out refuses to let go.
In You Came Back, the compelling debut novel by award-winning writer Christopher Coake, there is no shortage of love. There is the love Mark Fife has for his fiancée, Allison. There is his stubborn, somewhat obsessive love for his ex-wife, Chloe, the college sweetheart who left him. And there is the mountain of love he and Chloe both shoulder for their young son, Brendan, whose death in terrifyingly mundane circumstances will send chills down the spine of every parent.
It is seven years after Brendan's death. Mark is 38, no longer drinks and is on the verge of conquering his misgivings and proposing to Allison. Despite occasional nightmares and the feelings for Chloe he sometimes has to push away, he is sure that he will be happy again.
Then he is paid a visit by the woman who lives in the house where he, Chloe and Brendan lived together, and where Brendan died. She tells him that her fourth-grade son has seen Brendan's ghost, and that the ghost has been calling for his daddy. Mark initially wants nothing to do with the woman. But as the boy's story evolves into something more believable, both he and Chloe are drawn in, and toward each other. For Mark, it is heartbreakingly tantalizing: Can he get it back? Have Chloe, the love of his life, and Brendan, whose death he still feels responsible for?
Coake, named by Granta in 2007 as one of the 20 best young American novelists, received the PEN/Robert Bingham Fellowship for Writers for his collection of short stories, We're in Trouble. His first novel is a wrenching journey through the human heart. You Came Back isn't a book to start the night before a workday. It reads like a suspense novel and will keep you turning pages longer than is good for you. Afterward, it will leave you lying in bed in the dark, contemplating its surfeit of pain and beauty.
—
BookPage (Fiction Top Pick, June 2012)
or
Not Currently Available for Direct Purchase