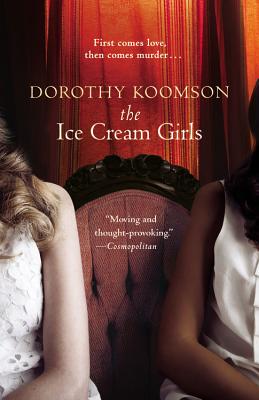 The Ice Cream Girls
Paperback

* Individual store prices may vary.
Other Editions of This Title:
Digital Audiobook (11/29/2012)
Description
For fans of Jodi Picoult, a heart-pounding novel about a notorious murder that sets two teen girls on radically different life paths.

As teenagers Poppy Carlisle and Serena Gorringe were the only witnesses to a high-profile murder. Amid heated public debate, the two seemingly glamorous teens were dubbed "The Ice Cream Girls" by the press and were dealt with by the courts-Poppy headed to prison after being convicted for murder and Serena was set free.

Years later, after having led very different lives, Poppy is keen to set the record straight about what really happened. The only problem is she has no one to turn to and no clue where to begin her hunt for Serena.

Meanwhile, Serena is married with children and wants no one in her present to find out about her past. Constantly looking over her shoulder, Serena knows she should come clean to her husband, however, she can't seem to find the words.

With Poppy determined to salvage what's left of her reputation, Serena may not have a choice in reopening a can of worms that may threaten both their lives . . . again.
Praise For The Ice Cream Girls…
"The Ice Cream Girls...An intricate tragedy of seduction and abuse, the loss of self and family, and the agonizing path to redemption and absolution. I couldn't put it down. Neither will you."—Antoinette Van Heugten, author of Saving Max on THE ICE CREAM GIRLS

"A thought-provoking and moving tale about murder, betrayal and life-shattering secrets."—Kimberla Lawson Roby, New York Times bestselling author of Secret Obsession on THE ICE CREAM GIRLS

"I truly enjoyed this suspenseful story filled with tragedy, but ending with major triumph. There were so many moments when I held my breath - the scenes were so vivid, I felt as if I was right there experiencing all of their pain and mind control. It was a story that I didn't want to put down, and I completely loved the ending. This is a writer that I will be sure to follow."—Victoria Christopher Murray, bestselling author on THE ICE CREAM GIRLS

"The plot is brilliantly constructed to turn full circle, yet it never seems contrived. The dialogue crackles with tension, with not a syllable out of place. Alice Sebold impressed me with her imaginative realism in the memorable The Lovely Bones; in my view Dorothy Koomson 's imagination and empathy for her characters, trapped into the chilling fall-out of tragic events, is even stronger."—www.bookbag.co.uk on THE ICE CREAM GIRLS

"The first book of the year that's got out hearts racing, our minds boggling and us page-turning like there's no tomorrow. Flirty, frothy chick-lit this isn't - instead, grab a box of tissues and prepare not to surface out into the real world for a day or two..."—Heat on THE ICE CREAM GIRLS

"Koomson takes the story to the darkest of places, creating a masterpiece of manipulation, that builds layer by chilling layer to an outstanding climax that will make you - and your goosebumps - shudder."—Daily Record on THE ICE CREAM GIRLS

"Goodnight, Beautiful was Cosmo's favourite book of 2008, so we were beyond excited when Dorothy Koomson's latest novel landed on our desk. Another moving and thought-provoking read, this lives up to expectations."—Cosmopolitan on THE ICE CREAM GIRLS

"A fast paced, gritty and exhilarating read."—Hot Stars on THE ICE CREAM GIRLS

"A shocking tale of brutality and betrayal, shattered childhood and hidden truths that the reader, like Poppy and Serena, will strive to understand - and come to realise that sometimes the most powerful secrets are taken to the grave."—Take a Break on THE ICE CREAM GIRLS

"Gritty and realistic, it mixes crime, drama and romance - the best women's fiction of the year so far."—Candis on THE ICE CREAM GIRLS

"The Ice Cream Girls is one of the most cleverly crafted novels that I have read for a long time... This is a psychological thriller that gripped me from page one and kept me hooked until the very last page. A compelling and often breathtaking read with a unique storyline and fantastic characters - I can't recommend this highly enough."—www.bookrabbit.com on THE ICE CREAM GIRLS
Grand Central Publishing, 9781455507139, 448pp.
Publication Date: April 24, 2012
About the Author
Dorothy Koomson wrote her first (unpublished) novel when she was 13 -- and has been making up stories ever since. As a journalist she has written for several publications including the Guardian, New Woman, and Cosmo. Her eight novels have all spent several weeks on the bestseller lists and have been translated into 30 languages across the world. Her seventh novel, The Ice Cream Girls, has also been adapted for television.

For more information on Dorothy, please visit her website athttp://www.dorothykoomson.co.uk/
Twitter: @DorothyKoomson
Facebook: http://www.facebook.com/#!/pages/Dorothy-Koomson/79360710576?fref=ts