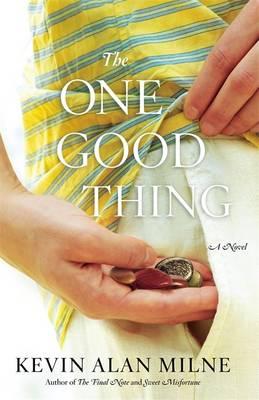 The One Good Thing (Paperback)
A Novel
Center Street, 9781455510085, 384pp.
Publication Date: March 12, 2013
Other Editions of This Title:
Paperback, Large Print (10/9/2013)
* Individual store prices may vary.
Description
For as long as Halley Steen has known her husband Nathan, he has carried a handful of stones in his pocket. Each day he uses those stones to remind him to follow the Golden Rule, moving a stone from one pocket to the other with each act of kindness. So it's not unusual that Nathan stops to help a stranger on the side of the highway while on his way to his son's football game one Friday evening. But that one act will change all of their lives forever, when a car hydroplanes off the road, killing Nathan instantly.

As Halley and her children Ty and Alice struggle with their grief, Nathan's spiritual legacy lives on. A Facebook page appears, where countless stories about Nathan's selfless acts are shared. But among them is one that stands out, from a woman who says that Nathan saved her life. Neither Halley nor her children have ever heard of Madeline Zuckerman. But soon Halley discovers years of e-mails from this woman to her husband on his computer that refer to "our little girl." How could her husband have kept the secret of this other child for their entire marriage? Why had he lied to her? Was he not the man she thought he was?

Only thirteen-year-old Alice maintains unwavering faith in her father. She knows there's an explanation. When she sets out to find Madeline and learn the truth, she will start to unravel the complex story of The One Good Thing Nathan Steen did that had the greatest impact of all.



About the Author
Kevin Alan Milne is the author of The Paper Bag Christmas, The Nine Lessons, Sweet Misfortune, and The Final Note. He earned an MBA at Pennsylvania State University. Born in Portland, Oregon, Milne grew up in the nearby quiet country town of Sherwood, Oregon, where he currently resides with his wife and five children. His website can be found at kevinamilne.com.
Praise For The One Good Thing: A Novel…
"Inspirational and heartwarming, Milne's newest work weaves his familiar feel-good tone into an enjoyable story about friendship, love, and family that is sure to please fans and newcomers alike."—Booklist

"Milne's latest is a touching story about a legacy of love. Although the plot is a simple one, it will resonate with readers looking to reach outside themselves and spread kindness to others."—RT Book Reviews

"The One Good Thing by Kevin Alan Milne is everything that a novel should be. It is uplifting, inspiring and entertaining. The story draws readers in from page one and holds them captive to the end."
—Desert News

"The magic of Kevin Milne's books is that they make you stop wishing the world was a better place and inspire you to actually get up and go make it one. The One Good Thing is exactly that kind of book."—Jason Wright, New York Times bestselling author of The Wednesday Letters

"Stirring and dramatic, Milne's work echoes that of Nicholas Sparks in its focus on love, commitment, faith, and the ultimate heartbreak of being human." —Booklist on The Final Note

"Kevin Alan Milne's The Final Note is a beautiful soliloquy on the power of love. The opening Prelude forcefully grabs you--you find yourself immersed in Ethan's rage against the perpetrator of his wife's catastrophic outcome. . . . "
—Aisle B, Review