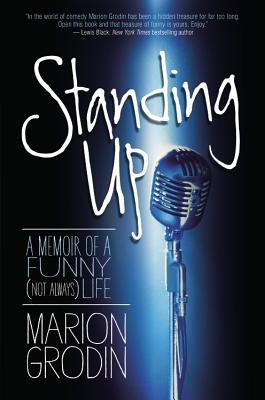 Standing Up
A Memoir of a Funny (Not Always) Life
Hardcover

* Individual store prices may vary.
Description
Marion Grodin, daughter of funnyman Charles Grodin, knows firsthand that laughter is truly the best medicine, having not only survived breast cancer and divorce, but also, various addictions-including an inappropriate relationship with Haagen Dazs.

Her hilarious riffs include; the story of growing large breasts that appeared seemingly overnight (Unfortunately this happened during the summer that she spent on the set of King Kong with her father and Jeff Bridges on whom she developed a huge crush); Her post divorce life, its slight weight gain and how she relied on her wise support group, her cats "BabyFighter" Edmond and "fashionably sporty, forensic expert" Snuggles.

In this cleverly written memoir Marion integrates her diverse and challenging life experiences and unstoppable ability to make everything funny in a way that is both entertaining and helpful. She hopes that her book will send a message to those who feel they are misfits and to those locked in addiction: there is a way out - and life can be very good when you kick the habit.
Praise For Standing Up: A Memoir of a Funny (Not Always) Life…
Marion Grodin is that rare combination of really smart and really down to earth. Her comedy is painfully and wonderfully honest. She doesn't know how to phony. She is one of the greats.—Colin Quinn

"Marion's a pro. Excellent. Big laughs. Somebody, anybody, take her and...throw a show around her."—Cindy Adams, columnist, NY Post

"When life is getting us down and we need to laugh until tears are rolling down our cheeks, we go to a Marion Grodin show. Marion doesn't let us forget that life is mundane and hard but somehow helps us to laugh at our ridiculous behavior and still love ourselves for it."—Kyra Sedgwick and Kevin Bacon

"In the world of comedy Marion Gordin has been a hidden treasure for far too long. All you have to do is open this book and that treasure of funny is yours. Enjoy."—Lewis Black, New York Times bestselling author

"Marion Grodin writes as she speaks, with a sharply funny honesty we cherish in our friends and fear in our enemies."—Jim Gaffigan, New Times bestselling author of Dad is Fat

"I have not read this book, nor do I intend to read it, certainly not without some therapy or possibly medication. While I have happily received more public recognition than Marion, I cannot stand that she gets more laughs than I do, when we are around others. As a result I have chosen not to be in her presence for the last decade. Enough is enough!"—Charles Grodin

"Sharp, witty, occasional black humor from a woman who has gone through hell and back and lived to tell the tale."—Kirkus

"Quirky, self-excoriating, tremendously human, Grodin is unafraid to tackle funny, sad, deeply painful issues of self-image and dependence."—Publishers Weekly
Center Street, 9781455510139, 320pp.
Publication Date: November 5, 2013
About the Author
Marion Grodin started her career as a staff writer for two network sitcoms and was later hired by 20th Century, to whom she sold six screen plays. Just as she was about to embark on her seventh, she decided it was time to start saying all these funny things she was trying to write. So she took the plunge into stand-up and has been working as a comedian for the past fifteen years.