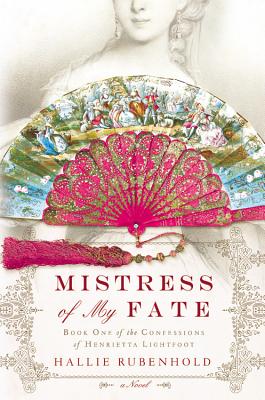 Mistress of My Fate (Hardcover)
Grand Central Publishing, 9781455511808, 453pp.
Publication Date: January 8, 2013
* Individual store prices may vary.
or
Not Currently Available for Direct Purchase
Description
Set during a period of revolution and turmoil, Mistress of My Fate is the first book in a trilogy about Henrietta Lightfoot, a young woman who was abandoned as a baby and raised alongside her cousins, noble children of a lord and lady. At just sixteen years old, circumstance and a passionate love affair tear Henrietta away from everything she knows, leading to a new life fending for herself on the streets of 18th century London as a courtesan, gambler, and spirited intellect of the city.
About the Author
Hallie Rubenhold is an historian and broadcaster and an authority on British eighteenth-century social history. She has written two works of non-fiction to critical acclaim: The Convent Garden Ladies and Lady Worsley's Whim: An Eighteenth-Century Tale of Sex, Scandal and Divorce. In addition to writing books, articles and reviews, Hallie regularly appears on TV in the UK as an expert contributor to documentaries. Hallie lives in London with her husband.
Praise For Mistress of My Fate…
First of a trilogy about virtue compromised and beauty commodified, set in late-18th-century England.

As a child, Henrietta is brought into the London home of Lord and Lady Stavourley, to be raised along with their two sons and daughter, Catherine. Early on, Henrietta resigns herself to her position in the household-that of a poor cousin, who if she is lucky, will be Catherine's companion after she is married. After Catherine's coming-out, it is to lovely Henrietta that handsome Lord Allenham directs his attention. However, since Henrietta is penniless, and Lord Allenham's cash-strapped family estate needs shoring up, he courts Catherine. Catherine's engagement is announced, but all along Allenham has been secretly corresponding with Henrietta, professing his love. When a scheming housemaid turns the letters over to Catherine, she scratches Henrietta's face and vows revenge. However, days before the wedding, Catherine dies of a fever. As the Stavourley household mourns, Lord Stavourley reveals the truth: Henrietta is no cousin, but his illegitimate daughter. Since Henrietta is dowryless (a spiteful Lady Stavourley controls the purse strings), her only option is marriage to a clergyman of her father's choosing. Desperate, Henrietta flees to Allenham's country estate, where the two consummate their forbidden love. He sets her up in a comfortable cottage, but then, unknown circumstances (which may pertain to his political ambitions) compel him to leave. Fruitlessly searching for Allenham in London, Henrietta learns that her mother was Mrs. Kennedy, a famous courtesan who retired to live with a rich lover, St John. Arriving at St John's residence, she finds she is too late-Mrs. Kennedy died years before. At first St John seems avuncular, but his lustful intentions are soon apparent. Henrietta succumbs since she can't face making her living on the streets, particularly since she is newly pregnant with Allenham's child. Historian Rubenhold has fashioned a page turner rife with choice tidbits about London's demimonde, however readers, kept on tenterhooks by ever more precarious cliffhangers, may feel cheated by the ending.

A tantalizing introduction.


-Kirkus Reviews

Historian Rubenhold exploits her in-depth knowledge of eighteenth-century British society to page-turning advantage in the first installment of a trilogy detailing the often tittilating adventures of Henrietta Lightfoot. Although parentless, Henrietta is raised alongside her aristocratic cousins, the social lines that divide them clearly drawn. When Henrietta unexpectedly eclipses her cousin Catherine in the eyes of dashing Lord Allenham, and her true parentage is revealed, she must marry against her will or be cast aside completely. Fleeing into the illicit arms of the handsome lord, who harbors secrets of his own, she begins to unravel the mystery of her own past. When her lover disappears, she is forced, as an unconnected woman of her time and place, to rely on both her guile and her feminine charms to survive in the seamy underbelly of respectable society while she continues to search for her missing paramour. Deviltry, debauchery, and desire reign supreme in volume one of this colorful Regency romp.

-Booklist

Like Fanny Hill and Moll Flanders, Rubenhold's naughty, bawdy debut is the tale of a bold woman whose daring adventures will captivate readers. Rubenhold's eye for rich detail and dialogue, coupled with witty writing and deft prose, turn this first-person "confession" into a "you are there" novel that readers will never want to end. The smart and sassy heroine and her every adventure are an irresistible delight. Be swept away into another world, another life and another romp of a read.Raised in the country, orphan Henrietta Longfoot is almost unaware of her station in life as she lives with her noble cousins. But when she learns the truth of her heritage and gets caught up in a forced marriage and murder, she flees to London and naïvely becomes a member of the demimonde. She falls hopelessly in love with the wrong man and makes her way through London's gambling halls, ballrooms and bedrooms, becoming an integral part of a community that accepts her intelligence and unique spirit. But Henrietta is intent upon finding the love of her life, even if she has to leave London for Paris, where even more adventure awaits.
-RT Book Reviews
Advertisement