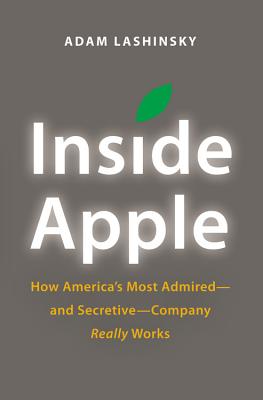 Inside Apple (Paperback)
How America's Most Admired--and Secretive--Company Really Works
Business Plus, 9781455512164, 256pp.
Publication Date: May 7, 2013
Other Editions of This Title:
Digital Audiobook (1/24/2012)
CD-Audio (5/7/2013)
Hardcover (1/25/2012)
CD-Audio (1/25/2012)
Paperback (1/1/2012)
Hardcover (1/1/2012)
* Individual store prices may vary.
Description
INSIDE APPLE reveals the secret systems, tactics and leadership strategies that allowed Steve Jobs and his company to churn out hit after hit and inspire a cult-like following for its products.

If Apple is Silicon Valley's answer to Willy Wonka's Chocolate Factory, then author Adam Lashinsky provides readers with a golden ticket to step inside. In this primer on leadership and innovation, the author will introduce readers to concepts like the "DRI" (Apple's practice of assigning a Directly Responsible Individual to every task) and the Top 100 (an annual ritual in which 100 up-and-coming executives are tapped a la Skull & Bones for a secret retreat with company founder Steve Jobs).

Based on numerous interviews, the book offers exclusive new information about how Apple innovates, deals with its suppliers and is handling the transition into the Post Jobs Era. Lashinsky, a Senior Editor at Large for Fortune, knows the subject cold: In a 2008 cover story for the magazine entitled The Genius Behind Steve: Could Operations Whiz Tim Cook Run The Company Someday he predicted that Tim Cook, then an unknown, would eventually succeed Steve Jobs as CEO.

While Inside Apple is ostensibly a deep dive into one, unique company (and its ecosystem of suppliers, investors, employees and competitors), the lessons about Jobs, leadership, product design and marketing are universal. They should appeal to anyone hoping to bring some of that Apple magic to their own company, career, or creative endeavor.



About the Author
Lashinsky is a Senior Editor At Large for Fortune Magazine, where he covers technology and finance. He is also a Fox News contributor and frequent speaker and moderator. Prior to joining Fortune, Lashinsky was a columnist for TheStreet.com and the San Jose Mercury News. He lives in San Francisco with his wife and daughter.

Praise For Inside Apple: How America's Most Admired--and Secretive--Company Really Works…
Adam Lashinsky, one of America's best and most diligent technology reporters, has produced a fascinating glimpse inside Apple as it makes its transition into the post-Jobs era. It's filled with colorful reporting and smart analysis that offer lessons not just about Apple but about creative business leadership in general.—Walter Isaacson, author of Steve Jobs

Frankly, a business book hasn't grabbed me like that in a long-time.
—Bob Sutton, author of Good Boss, Bad Boss and The No Asshole Rule.


I'm not a heavy reader. It's extremely rare that I'll read a book in one sitting. This one kept me hooked start to finish - I could not put it down.—John Tokash, co-founder at Kartoffl.ly


Apple, Inc. could teach the Chinese a few tricks about secrecy. In this crisply written, engrossing book, Adam Lashinsky lifts the veil on how Apple really works and why it has been such as astonishing success. That is yesterday. What this book also does is explore tomorrow, including the challenges confronting a gifted group of executives trained by Steve Jobs but bereft of his leadership. I devoured this book in one sitting.—Ken Auletta, columnist for The New Yorker and the author of Googled: The End of the World As We Know It

Much more than Isaacson's, this is the one I've been waiting to read.—John Lilly, Partner at Greylock, former CEO at Mozilla.

Lashinsky's book, then, is an important rebuttal of today's Silicon Valley orthodoxy that a successful 21st century company needs to be organizationally flat and open. Lashinksy may indeed be telling a truth that most of us don't want to hear. Apple, rather than Google, is the future of corporate America. And that future will be defined by secrets and lies, rather than by transparency and truth.

—TechCrunch

This book's real strength - besides lots of insight from people who knew and worked with Jobs, Cook and the rest of the executive team - is the way it frames different scenarios that could result from Apple sans Jobs... You get the feeling when reading this that people inside the company will be just as keen to pick up a copy as those of us on the outside.—Erica Ogg, GigaOm

"Inside Apple" makes a worthwhile companion to last year's best-selling "Steve Jobs," by Walter Isaacson. If Isaacson's book was the definitive biography of Apple's chief visionary, who died in October, then "Inside Apple" is a revealing guided tour of his greatest creation."—San Francisco Chronicle