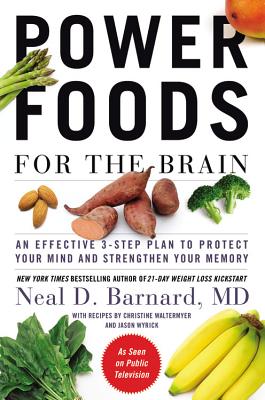 Power Foods for the Brain
An Effective 3-Step Plan to Protect Your Mind and Strengthen Your Memory
Hardcover

* Individual store prices may vary.
Other Editions of This Title:
Digital Audiobook (2/18/2013)
Paperback (2/25/2014)
Description
Strengthen your memory with New York Times bestselling author Dr. Neal Barnard's simple 3-step plan to protecting your brain with your diet.
Could your breakfast or lunch be harming your memory?
Are you missing out on the foods that could prevent Alzheimer's disease?
Everyone knows good nutrition supports your overall health, but few realize that certain foods-power foods-can protect your brain and optimize its function, and even dramatically reduce your risk of Alzheimer's Disease. Now,
New York Times
bestselling author, clinical researcher and health advocate Dr. Neal Barnard has gathered the most up-to-date research and created a groundbreaking program that can strengthen your memory and protect your brain's health.
In this effective 3-step plan Dr. Barnard reveals which foods to increase in your diet and which to avoid, and shows you specific exercises and supplements that can make a difference. It will not only help boost brain health, but it can also reduce your risk of Alzheimer's disease, stroke, and other less serious malfunctions such as low energy, poor sleep patterns, irritability, and lack of focus. You'll discover: 
The best foods to increase cognitive function
Dairy products and meats-the dangers they may pose to your memory
The surprising roles alcohol and caffeine play in Alzheimer's risk
The latest research on toxic metals, like aluminum found in cookware, soda cans, and common antacids.
Plus a detailed menu plan, recipes and time-saving kitchen tips
Praise For Power Foods for the Brain: An Effective 3-Step Plan to Protect Your Mind and Strengthen Your Memory…
"This is a book everyone should read from a doctor whose advice I trust. PowerFoods for The Brain will help you maximize your brain power and prevent problems down the road concerning memory loss. Buy it now before you forget to." --Ellen DeGeneres

"Dr. Barnard has written a timely and critically important book on a topic that will be of concern to many people." --T Colin Campbell, PhD, Professor Emeritus, Cornell University, and coauthor, The China Study

"Simple changes to your diet and exercise can help you be at your best when you're young and help prevent memory problems when you're older. Power Foods for the Brain shows you how, step by step. This is an immensely practical and important book." --Dean Ornish, MD, Founder & President of the Preventitive Medicine Research Institute and Clinical Professor of Medicine at University of California, San Francisco

"This is a game changer for anyone concerned with memory or cognition. The great news is that Dr. Barnard has, once again, given us the keys to prevention and profound healing, and those keys are easily accessible." --Kathy Freston

"... simple, effective strategies for preventing dementias-not with drugs, but with great-tasting food and healthy lifestyle choices. Finally, a low-cost, (and delicious) doctor's prescription you will enjoy filling-and one you'll be able to remember to refill, year after year! Given the tsunami of dementias bearing down upon our society, Power Foods for the Brain is, potentially, one of the most important books of the decade." --Michael Klaper, MD, Director, Institute of Nutrition Education and Research, Manhattan Beach, CA

"Enhance your intellect with food. Dr. Barnard's simple dietary prescription also prevents strokes, Alzheimer's disease, and other causes of loss of mental function. The recipes are easy and delicious." --John McDougall, MD, author and founder of the McDougall Program

"Dr. Neal Barnard is one of the most responsible and authoritative voices in American medicine today" --Andrew Weil, MD
Grand Central Life & Style, 9781455512195, 320pp.
Publication Date: February 19, 2013
About the Author
Neal D. Barnard, MD, FACC, is perhaps the world's most respected authority on vegan diets. He is a faculty member of the George Washington University School of Medicine and President of the Physicians Committee for Responsible Medicine. Dr. Barnard is editor-in-chief of the Nutrition Guide for Clinicians, a nutrition textbook given to all second-year medical students in the U.S. He is also editor of Good Medicine, a magazine with a circulation of 150,000. He is the New York Times bestselling author of Dr. Neal Barnard's Program for Reversing Diabetes and The 21-Day Weight-Loss Kickstart, among many others.