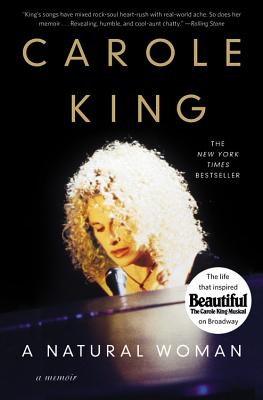 A Natural Woman
A Memoir
Paperback

* Individual store prices may vary.
Other Editions of This Title:
Digital Audiobook (4/9/2012)
Hardcover (4/10/2012)
Description
Read the New York Times Bestselling memoir that is "revealing, humble, and cool-aunt chatty" about the incredible life that inspired the hit Broadway musical Beautiful (Rolling Stone). Carole King takes us from her early beginnings in Brooklyn, to her remarkable success as one of the world's most acclaimed songwriting and performing talents of all time. A Natural Woman chronicles King's extraordinary life, drawing readers into her musical world, including her phenomenally successful #1 album Tapestry, and into her journey as a performer, mother, wife and present-day activist. Deeply personal, King's long-awaited memoir offers readers a front-row seat to the woman behind the legend.

The book will include dozens of photos from King's childhood, her own family, and behind-the-scenes images from her performances.
Praise For A Natural Woman: A Memoir…
Weaving a tapestry of rich and royal hue, King's affecting memoir eases readers through her life, from the girlhood in Brooklyn where she was already jotting down lyrics and her teenage years that culminated musically with the hit "Will You Love Me Tomorrow?"; through her tumultuous marriage and songwriting years with her first husband, Gerry Goffin; her moves back and forth between New York and California; her three marriages after Goffin; and her deep commitment to environmental issues bred by her living self-sufficiently with her family in the mountains of Idaho. She confronts the physical abuse she experienced at the hands of her third husband; her disbelief that she would let someone treat her that way, and her incredulousness at her own decision to remain in the relationship; and her eventual decision-with the help of an abuse support group-to leave him. King's passionate engagement with all kinds of music, and her musical genius (her Tapestry album remained on the charts for six years running, a distinction that eluded even the Beatles) flood through these reflections, and she recreates the excitement of working with producers such as Lou Adler, Jerry Wexler, and Ahmet Ertegun, musicians James Taylor, Danny Kortchmar, Russ Kunkel, Leland Sklar, and Aretha Franklin, and songwriters Neil Sedaka, Cynthia Weil, and Barry Mann, among many others.—Publishers Weekly

An acclaimed singer-songwriter invites fans into her personal life.
When King embarked on her Living Room Tour in 2004, she re-created onstage the atmosphere that millions had come to expect from the slew of albums she recorded from the 1970s onward. Tapestry, her breakthrough 1971 album, not only became a bestseller and a benchmark for women's achievements in the music industry but also introduced the down-to-earth, optimistic and liberated worldview of a woman with some timely stories to tell. King's trajectory mirrored that of many of her fellow musical peers. Bitten by the music bug at an early age and subsequently converted to rock 'n' roll in the '50s, she began writing her own songs, landing a record deal at the age of 15. She would experience far greater success, however, when she and co-songwriter Gerry Goffin turned out hit after hit for such artists as Aretha Franklin, the Shirelles and the Monkees. Having married Goffin when she was 17, King spent most of the '60s balancing her career with her responsibilities as a wife and mother. Change was in the air, though, and when her marriage deteriorated, she set off for Los Angeles to seek her own voice. That voice comes through strongly on every page of this memoir, an engaging assortment of recollections comprising a journey that started in her working-class Jewish neighborhood in Brooklyn, took her to Manhattan and Laurel Canyon and saw her escape what Joni Mitchell called "the star maker machinery" to settle in rural Idaho. In one of the book's best sections, King explains her decision to retreat from fame in the mid '70s, chronicling the joys and sorrows of going "back to the land" as well as the tempestuous relationships she had with two men during this period. She is also refreshingly candid about her four marriages.

A warm, winning read that showcases baby-boomer culture at its best.—Kirkus Reviews
Grand Central Publishing, 9781455512621, 496pp.
Publication Date: February 12, 2013
About the Author
Carole King had her first No. 1 hit in 1961, at age 18, with "Will You Love Me Tomorrow". Collaborating with former husband Gerry Goffin, the team went on to write more than two dozen chart-toppers, including "One Fine Day", "The Loco-Motion", "Will You Love Me Tomorrow", and "(You Me Me Feel Like A) Natural Woman." Her 1971 solo-album, Tapesty, won 4 Grammys, and earned her the record for longest time an album by a female artist has remained on the Billboard Charts (6 years), as well as the longest time holding the #1 position (15 consecutive weeks).

King, in addition to writing more than 100 top-selling songs has recorded 25 solo albums. In 2007 she and longtime collaborator James Taylor reunited and recorded Live at the Troubadour. Released in 2010 the album debuted at number 4 on the Billboard Hot 100 and The Troubadour Reunion Tour became the second highest grossing Tour of that year. She has won numerous lifetime achievement honors and has been inducted into the Songwriters Hall of Fame, "Hit Parade" Hall of Fame, and Rock and Roll Hall of Fame.

Carole King continues to entertain audiences the world over. She released her most recent album in December, 2011, Carole King: A Holiday Carole, to rave reviews.
or
Not Currently Available for Direct Purchase