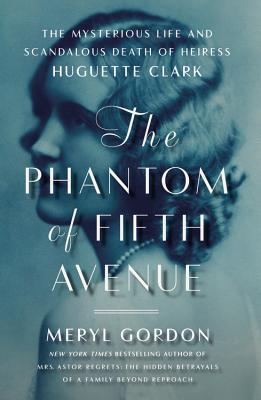 The Phantom of Fifth Avenue (Hardcover)
The Mysterious Life and Scandalous Death of Heiress Huguette Clark
Grand Central Publishing, 9781455512638, 400pp.
Publication Date: May 27, 2014
Other Editions of This Title:
Digital Audiobook (5/26/2014)
Paperback (5/12/2015)
Pre-Recorded Audio Player (5/27/2014)
* Individual store prices may vary.
Description
Born in 1906, Huguette Clark grew up in her family's 121-room Beaux Arts mansion in New York and was one of the leading celebrities of her day. Her father William Andrews Clark, was a copper magnate, the second richest man in America, and not above bribing his way into the Senate.
Huguette attended the coronation of King George V. And at twenty-two with a personal fortune of $50 million to her name, she married a Princeton man and childhood friend William MacDonald Gower. Two-years later the couple divorced. After a series of failed romances, Huguette began to withdraw from society--first living with her mother in a kind of Grey Gardens isolation then as a modern-day Miss Havisham, spending her days in a vast apartment overlooking Central Park, eating crackers and watching The Flintstones with only servants for company.
All her money and all her real estate could not protect her in her later life from being manipulated by shady hangers-on and hospitals that were only too happy to admit (and bill) a healthy woman. But what happened to Huguette that turned a vivacious, young socialite into a recluse? And what was her life like inside that gilded, copper cage?

About the Author
Meryl Gordon is the author of Mrs. Astor Regrets: The Hidden Betrayals of a Family Beyond Reproach. She is an award-winning journalist whose articles have appeared in Vanity Fair, the New York Times, and New York Magazine, and the director of Magazine Writing at New York University's Arthur L. Carter Journalism Institute. A native of Rochester, New York, and a graduate of the University of Michigan, she lives on Manhattan's Upper West Side with her husband, Walter Shapiro.
Praise For The Phantom of Fifth Avenue: The Mysterious Life and Scandalous Death of Heiress Huguette Clark…
"[Gordon] is a tender and clear-eyed biographer; "The Phantom of Fifth Avenue" teases out the ways in which some human relationships, at their core, may always be transactional."—New York Times

"How a vibrant young woman morphed into a doll-collecting recluse who spent her afternoons watching The Flintstones sounds like a dreary tale...But as Gordon's fine reporting reveals, it's also a deeply fascinating one."—Entertainment Weekly

"[E]xcellent."—The Wall Street Journal

"A thrilling read...Meryl Gordon delivers quite a page-turner for this true-life mystery."—USA Today

"Insightful and intriguing, Gordon's book offers a rare glimpse into a privileged world--and twisted personal psychology--beyond imagining."—Kirkus

"A perfect choice for the Grey Gardens set."—Booklist

"Meticulously researched, Gordon's account catalogues every juicy detail and eccentricity amassed over a century....a rigorous, authoritative account of a 20th century enigma."—Publishers Weekly

"An engrossing account for those interested in the lengths that family, professionals, and others will go to appropriate the wealth of a seemingly desolate heiress."—Library Journal

"[F]ascinating...Gordon's research is impeccable."—Sacramento News and Review

"Meryl Gordon masterfully depicts the life and times of one of New York's most eccentric millionaires...you won't want to put this book down."—HamptonSheet.com

"Through her assiduous research...and canny analysis, Gordon gives us, yes, Clark's perplexing eccentricities and the ins and outs of the fight between family members and loyal-but-incompetent friends and helpers. But The Phantom of Fifth Avenue also offers a believable, sympathetic portrait of a vulnerable perfectionist with an artistic temperament."—Bookpage

"Meryl Gordon...paints a human, often heartbreaking portrait of the woman behind the legend. In her capable hands, Mrs. Clark's story becomes both page-turner and time capsule for an era gone by."—Glamour.com

"...an alluring, enigmatic portrait."—New York Observer
or
Not Currently Available for Direct Purchase