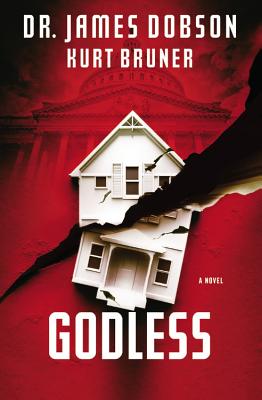 Godless (Paperback)
A Novel
FaithWords, 9781455513178, 416pp.
Publication Date: November 4, 2014
Other Editions of This Title:
Digital Audiobook (5/5/2014)
Hardcover (5/6/2014)
CD-Audio (5/6/2014)
* Individual store prices may vary.
Description
The nightmares have returned. Something, or someone, wants to drag Julia Davidson back into a dreadful conflict she assumed was a distant memory. Was this, like before, the echo of another person's dream? Is she responsible to rescue faces she doesn't recognize but can't forget? Do the murky images suggest she has a part to play in whatever ominous events lie ahead?

Things are finally looking up for Matthew Adams. As the top earner at MedCom Associates he has started to crawl out of the financial hole created during his "dark days." And now, out of the blue, a mysterious woman invites him to join a confidential research initiative. She says it will ease the mounting economic crisis. But at what cost to Matthew's fragile sanity, and his tortured soul?

Pastor Alex Ware faces a serious problem. The honeymoon period at Christ Community Church has ended. The finance committee says they can't afford another year of dwindling income and dismal growth. The board wants action, now! Aging parishioners would gladly allocate a portion of their estate to help. But only if Alex stops condemning the transition industry and starts affirming what the Youth Initiative calls "our heroic volunteers."
In Fatherless and Childless, Dr. James Dobson and Kurt Bruner depicted a time in which present-day trends come to sinister fruition. This eagerly awaited conclusion vividly imagines what happens when God's image on earth is exchanged for the horrors of a GODLESS world.
About the Author
Dr. James Dobson is the Founder and President of Family Talk, a nonprofit organization that produces his radio program, "Family Talk with Dr. James Dobson." He is the author of more than fifty books dedicated to the preservation of the family. He has been active in governmental affairs and has advised three U.S. presidents on family matters. Dr. Dobson is married to Shirley and they have two grown children, Danae and Ryan, and two grandchildren. The Dobsons reside in Colorado Springs, CO.

Kurt Bruner serves as Pastor of Spiritual Formation at Lake Pointe Church and on the adjunct faculty of Dallas Theological Seminary. A graduate of Talbot Seminary and former Vice President with Focus on the Family, Kurt led the teams creating films, magazines, books, and radio drama. As President of HomePointe Inc., he helps local church leaders create an ongoing culture of intentional families. Kurt is the best-selling author of more than a dozen books. Kurt and his wife, Olivia, have four children and live in Rockwall, Texas.